Love Peace and Harmony to All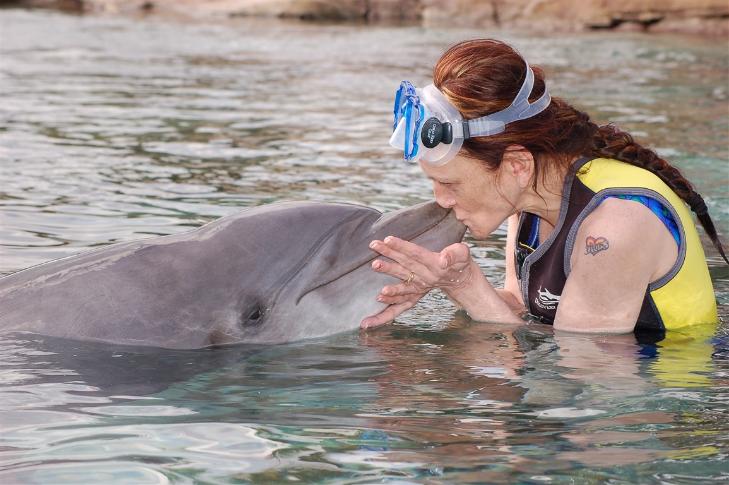 Welcome to Survivorsburg, here you will find poems, stories, events, broadcasts, audio, sales and other general content. All content remains survivorsburg and survivorsburg local supporters. Logo and other images remain copyrighted and the web layout also.
Survivorsburg has no action against other sources such as other promotional links and general content feeding out within this site.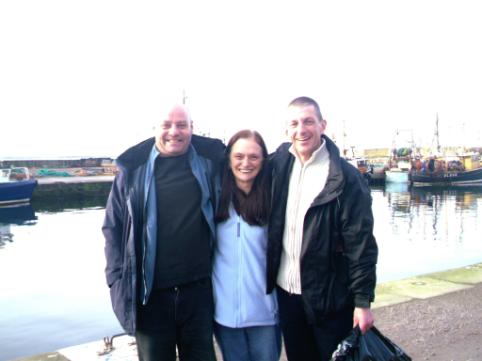 Stevie May Alan 23rd Feb 2006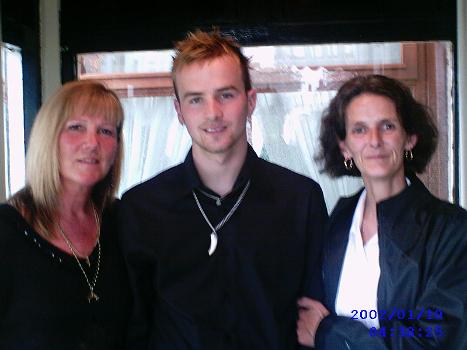 Helen Micheal and Caroline this was day we met June2006 at Alan McDonald's Funeral one of the strongest nicest ladies i was fortunate to meet and have as part of my life Love Wee Sis forever in my heart
IN LOVING MEMORY OF ALAN McDONALD AND HIS WEE SISTER CAROLINE BECK (MY ADOPTED WEE SIS) R.I.P BOTH OF YOU

The Year 2006
For 20 years and more,
I had confusion and depression at my door,
Till sound and vibration came into my life,
It was full of trouble and strife,
To Burghead I would have to go,
Before I would learn how to glow,
To meet my past and myself,
With love and kindness,
Instead of hatred and the madness,
To create and live my life,
Instead of all the pain and strife,
Life events have rocked me to the core,
But no depression at the door,
Big and strong I have became,
The feelings inside are not the same,
The wind, rain, snow the beauty of life,
The joy of being a wife,
These things I enjoy much more,
Now that love is in my door,
The events of the past made me crazy and daft,
Now I have learnt a new craft,
Instead of being anxious and stressed,
Sometimes you just have to relax and get dressed,
To look back with hate and fear,
Does not help you see things very clear,
With love and peace in your heart,
Then go back to the start,
Meet the pains and the horrors of the past,
Mend them with love then the healing will last,
"You're a bad person" that's what I was told,
Until I got out and joined a new fold,
These friends of mine said it was untrue,
Now's the time to find the real you,
The journey has been long,
But now I am big and strong,
In heart and mind,
I am loving and kind,
A chatter box that is me,
When it gets too much people flee,
This is not bad,
It's just I am still slightly mad,
To look within does not fill me with fear,
If things are bad I look forward to next year,
Because somewhere along the line,
The sun will come out and I will shine.
©May Thomson
2009
I Think of You
I think of you each morning,
I think of you each night,
I think of you when the sun is shining bright,
I think of you at dusk's last light,
I think of you each birthday,
I think of you each Christmas day,
I think of you and wish you never went away,
I think of you with a smile,
I think of you when I sit and remember for a little while,
I think of you and the precious time we shared,
I think of you as you cared,
I think of you when sad and blue,
I think of you wish I could have one more day with you,
I think of you all year,
I think of you as you were so loving and dear,
I think of you not because you are dead,
I think of you for the love and help I felt instead,
I think of you to were having you in my life has led,
I think of you now it's time for bed,
I Think Of You.
©May Thomson
2013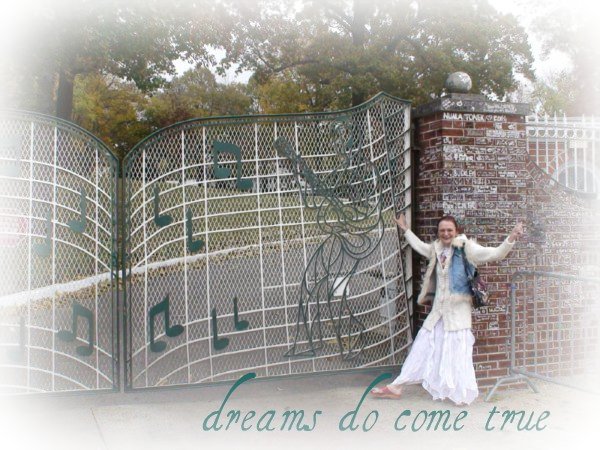 My American Dream
This land a dream for me,
Now as an adult but since I was wee,
To swim with the dolphins,
In the land of the free,
This would fill me with such glee,
In November 2007 the dream came true,
To visit America I would do,

Off to San Francisco to see
My 49ers play,
That was such an exciting day,
"Make them eat dirt" I shouted aloud,
This went down well with the rest of the crowd,
They lost their game,
That was such a shame,
I remember the days of glory,
When Montana was on the field,
It was a different story,
Six days I would stay,
Seeing the ups and downs of the American way,

Then off to Memphis for some rock and roll,
To visit Graceland's to reach my soul,
My name on the wall I did write,
This filled me with so much delight,
To visit the home of the king,
Seeing all that bling bling bling,
A pink Cadillac ride I did take,
To Marlow's restaurant for some cake,
This night was so much fun,
Tomorrow I go off to the sun,

To Orlando for final part of this dream,
To swim with the dolphins,
I thought I had got double cream,
The emotions I felt that day,
Will never go away,
This trip was an inspiration,
To fill my life with more creation,

This holiday was a dream come true,
That will last a lifetime through,
From the people I met there,
For the good and the bad,
But these memories never make me sad,
This was my adventure that I had there,
Thought the time was right to share,
So to young and old alike out there,
Who hold a dream so dear?
Never let it be overtaken with fear,
Because this might just, be your year.

© May Thomson.
2009


From "My American Dream" to "Oor Scottish Adventure"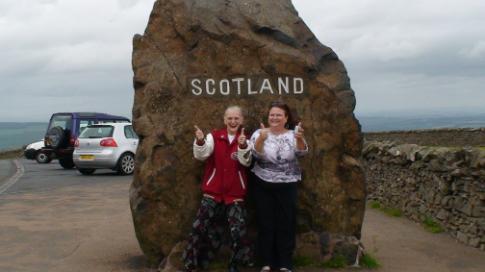 @Survivorsburg and @Tango2Paris 18th June 2011

OOR Scottish Adventure


Thought it would be real fine,
On arrival to cross the English/Scottish line,
Translates to THE BORRDER,
Oh goodness me,
Oor TANGO found it colder,
Standing either side of the boulder,

I laughed when I heard her pleas
This Scottish weather is going to make,
Oor TANGO freeze,
So wi 49ers Jacket a Big Bear Hug I gave her,
I'll keep yi waarrm and save yea,

Her excitement at all that she see's,
Oh to this Scottish Lassie's heart does please,
See the sparkle light her Beautiful eyes,
At the beauty of my Country beneath,
Dark grey cloudy Scottish skies,

A small nation that fights for FREEDOM,
Tango Hun glad to Bonnie Scotland,
You did decided to come,
Our Birthday came and went,
It was a very quiet relaxing event,

The joy in my heart,
Tango and I were not apart,
Start the New decade of Adventure,
Having Tango Here has been,
An absolute treasure,

Her joy and excitement,
Cast it spell on me,
At the weather and all its diversity,
Fae Jedhart Toon to Edinburgh's Fair City,
Unfortunately this visit St Andrews,
Had to be cancelled,
that was such a real pity,

Now told our TANGO,
Scatland was Real Bonniee,
Across the Atlantic Ocean she did flyy,
Come right over visit little old mee,
And the hameland life she waunted to try,

Now one evening a friend did arrive,
A single haggis fae the chippy,
To taste almost immediately,
Tango did strive,
Going rather flippy,

Friend asked would you like to try,
Oor Scottish fare,
We Scots really do like to share,
So a chippy haggis Tango did taste,
Ate it all none went to waste,

Tango had to be Different,
Put on American Barbeque Sauce,
With gasps of horror and a pause,
Let's try that was the plea,
Big grown men but with kiddies glee,
New dish created Transaltanticlee,

One evening Tango waunted us to try,
American food instead of a Scottish Fry,
It was nice American fare,
But for Pepper's she now knows,
I definitely don't care,

Now Melrose Station was a blast,
seeing and appreciating,
old time skills and craft,
then playing aboot like 2 kids gawing daft,
characters in our own movie cast,
makes me just want to laugh and laugh,

Today the last day before she flies,
right on home to sunshiny blue skies,
If I said I would not like to return with her,
I would be telling big pork pies, (lies)

Her leaving tomorrow is going to be sad,
To help her visit her hameland,
I am so very proud and glad,
The memories of the week we shared,
Her staying with people who really cared,

In My Bonnie Scottish homeland,
I am so very glad she came,
With love peace and harmony,
I regretfully send her hame.

So to the Good old US of A,
Always give oor Tango a nice day,
Or I'll be over to kidnap this lady,
Tae bring her back to her roots ,
The Scotland Way.


© May Thomson
2011


Haste yi Back Bonnie Lass

Published in Survivorsburg2006 May's Poetry on Blurb.com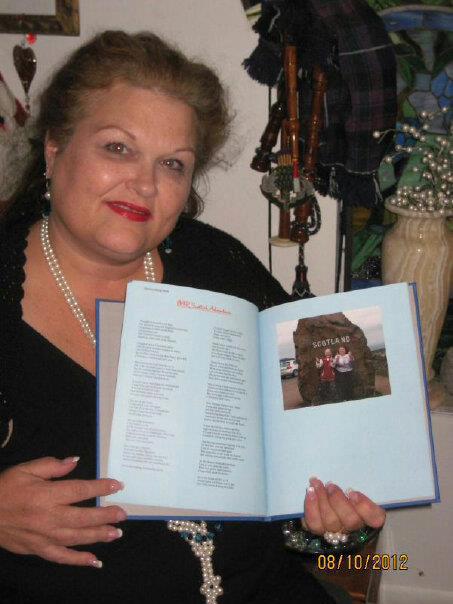 Came for her Dream and Ended up in My Book



© All rights 2012 May Thomson Website Designed / Built by MAY THOMSON
These Scrolls are now for sale on my On-line Store Page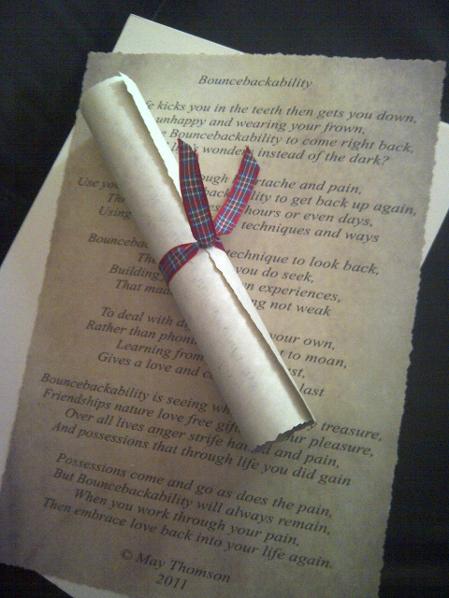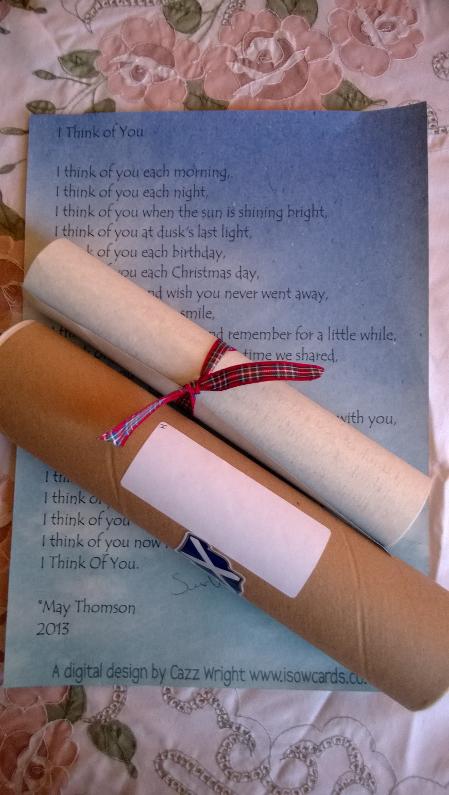 CHRISTMAS FUND RAISER in Aid Of Help Harry Help Others
Diana Clark
e
and
Myself
have joined together to Fund Raise for
Help Harry Help Others
There is 2 parts :
1st: Small Competition to add a bit of fun to our fund raiser Come up with the title of a poem written by me and donate £2 to our
Just
Give Page
. There is a Prizes up for Grabs and will run To 25/12/2013 Midnight GMT 1st Ever published Scroll of the Poem which will have your title at the top and will be limited only to winner 1/1 and Hand Knitted Christmas Stocking their is also runner up prizes
Come up with a title for this Poem:
Clickety Clackety the needles do go,
Row by row,
Watch it grow,
Is it a cardigan, jumper, or blanket? No
Once sewn it's a little jacket,
Many garment's you can knit,
When knitting needles part of a crafting kit,
Knit one, purl one, passes slip stitch over,
What's next? A Gent's pullover,
Family, Friends and Pets for all you can knit,
Also helps keep your brain fit,
Patterns concentration they do need,
Keeping it right for you to succeed,
Give yourself a challenge,
Knitting needles a pair,
Then knit something for yourself,
Or for others whom you do care.
© May Thomson
2013
2nd: if you do not wish to come up with a title visit our
Just
Give Page
and Donate £2
Help us give a Christmas Gift to a very worthy Charity Lets help the Kids
Harry was such a Brave Little Happy Boy never met him but had big influence on my life it is a great honour to do this to help his mum carry on his legacy.
so come guys give us Two Quid Please and help us achieve it and kick start next years fund raising off to a good start.
We All wish You a Very Merry Christmas and Thank You For your Support
May Thomson Aka Survivorsburg
Diana Clarke Aka Peggy's Collections
Georgina Moseley Aka
Help Harry Help Others
Or Donate Your Old Shoes Below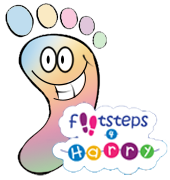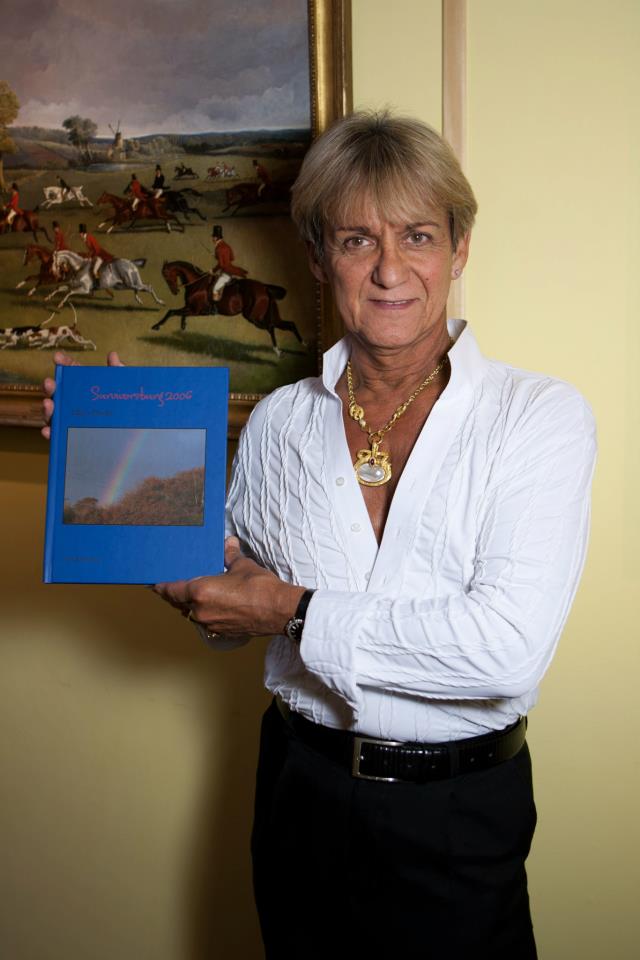 Ian Micheal Towning Now Has BOUNCEBACKABILTY

My Own Hero Mr Micheal Carter (uncle Mick) His 80th Birthday with signed Copy of Book 15th Jan 2013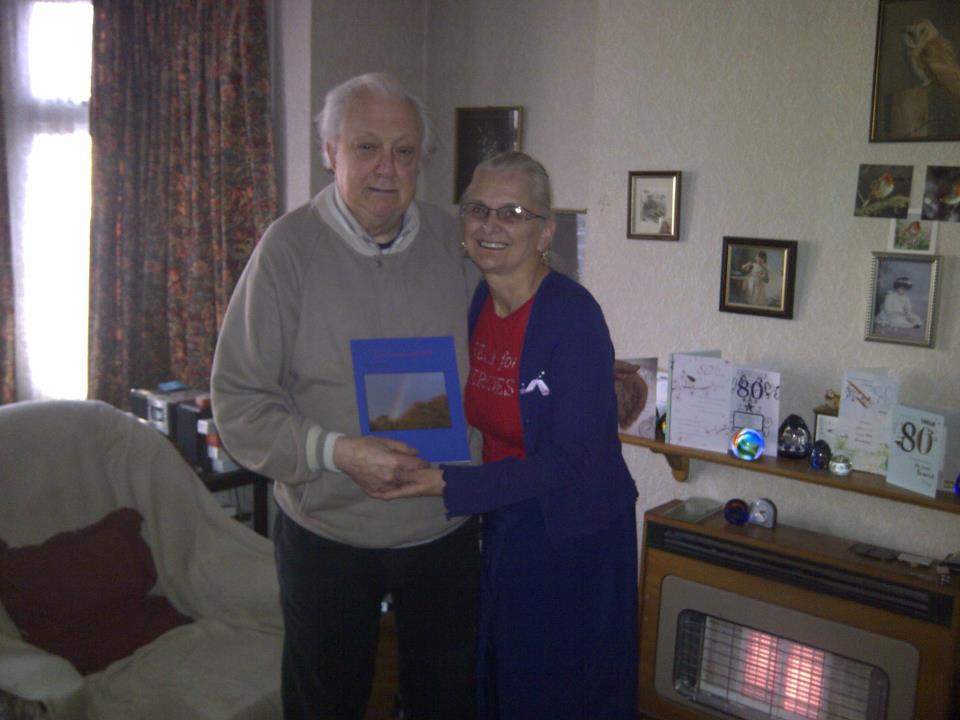 Christmas 2012 Survivorsburg Doing her bit for International Relations Lol was great Fun with my Polish Friend The One and Only Lady T to be able to help a DREAM come true to the best Part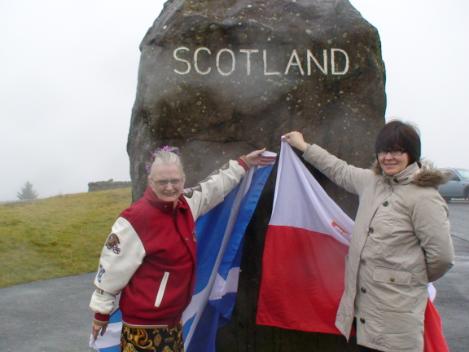 Today Top News From: Survivorsburg Poet Laureate is taking few Days off to help her Friend @SuperNurseJune get tae Thhhooosssand Poounds by Monday for her #RaceforLife (she does it everyday) and a special friend from @twitter.
then Awake to Another News Flash Via vakart.org,uk see below: a #Missile Attack in #Texas Poetess (PT THE COWBOY will Survive) How Will PT translate this story will #PoetLaureate be CHOONED tae fill the shootbox foo Oh laughter to find out #Tune in 1Radio.org tae find oot . ???
Celebrate the Victory of Recovery Sept 2007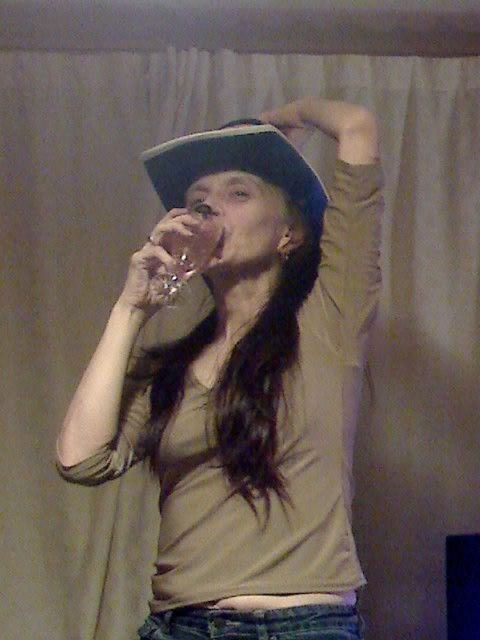 Bouncebackability
When life kicks you in the teeth then gets you down,
So unhappy and wearing your frown,
Do you have Bouncebackability to come right back,
Seeing all life's wonders instead of the dark,
We all go through heartache and pain,
Use your own Bouncebackability to get back up again,
Through the darkest of hours or even days,
Using different abilities techniques and ways,
Bouncebackability is a technique to look back,
Then gain what you do seek,
Building from your own experiences,
That made you so strong not weak,
To deal with difficulties on your own,
Rather than phoning others just to moan,
Learning from your own past,
Gives a love and calm that will last,
Bouncebackability is seeing what you really treasure,
Friendships nature love free gifts for your pleasure,
Over all lives anger strife hatred and pain,
And possessions that through life you did gain,
Possessions come and go as does the pain,
But Bouncebackability will always remain,
When you work through your pain,
Then embrace love back into your life again.
© May Thomson
2011