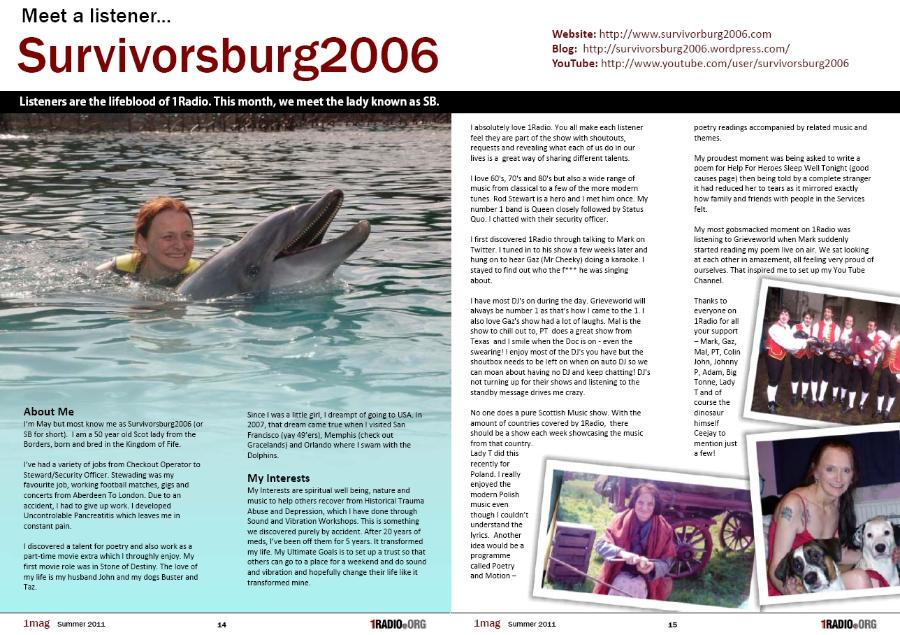 Love 1Radio
Thanks to Espy aka Shawn Christy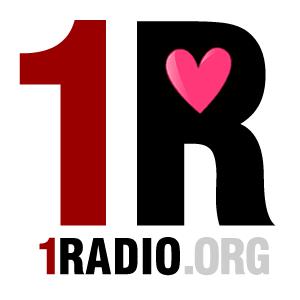 ANNOUNCEMENT: This Page Will not close or be Deleted on 31 st dec i am looking into added a shoutbox function of some sort so we can all checking in keep in touch ect and only for those connected to The1 will be passworded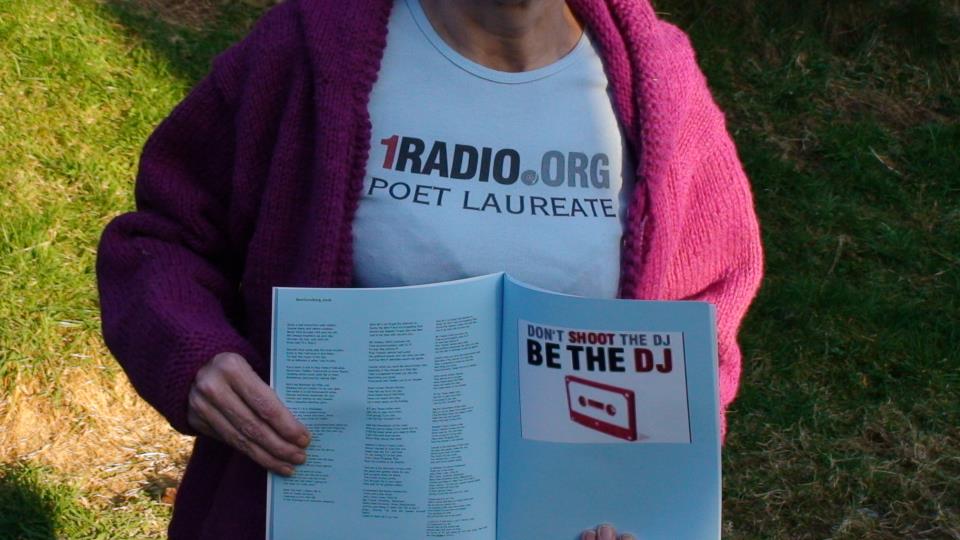 What Can Be Done : in 2007 a Dream came True but did not mean end of Dreams it meant moving on to achieve others Dreams this year another step closer from a lady who wrote a few poems for family and friends to your Poet Laureate with 1st Book Published not in my wildest Dreams few years back all achieved under our Motto FUN ON THE1 well it sure has been and continues to be.
Since joining you all from small Poems to the Largest Written to-date we have done a few so this page is all the Poems, Recording, Videos ect done since joining the1 so its easier for you to access them.
I Think of You
I think of you each morning,
I think of you each night,
I think of you when the sun is shining bright,
I think of you at dusk's last light,
I think of you each birthday,
I think of you each Christmas day,
I think of you and wish you never went away,
I think of you with a smile,
I think of you when I sit and remember for a little while,
I think of you and the precious time we shared,
I think of you as you cared,
I think of you when sad and blue,
I think of you wish I could have one more day with you,
I think of you all year,
I think of you as you were so loving and dear,
I think of you not because you are dead,
I think of you for the love and help I felt instead,
I think of you to were having you in my life has led,
I think of you now it's time for bed,
I Think Of You.
©May Thomson
2013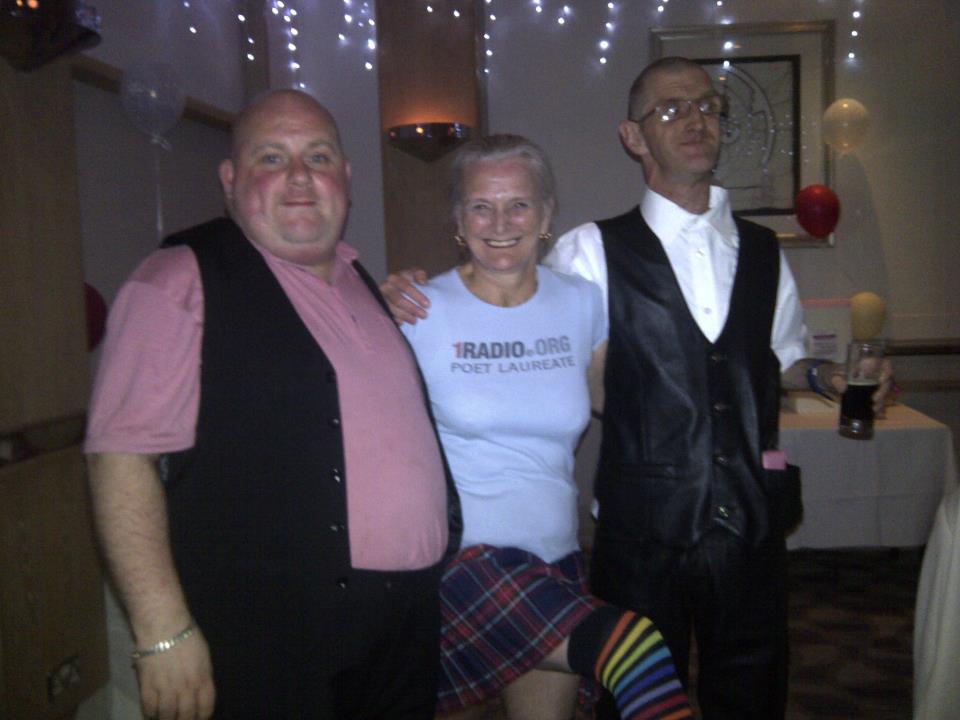 Latest Event 03 May 2013 Dazzle and Pete The Producers Civil Partnership
see more Below
Christmas Wish
This Christmas time,
Again I write in rhyme,
Tae wish yi aw great cheer
And wishing yi aw a guid new year,
These wishes fir a day,
A send Love Peace and Harmony,
Not 1 but every day of the year,
With love and guid cheer,
So Merry Christmas,
Tae one and aw,
Happy New Year
My Kith and Kin,
Let's Make 2014
A great yin
© May Thomson
2013
Another 1st For The1 no other Radio Station has it's Own Poet Laureate
See Rhodders and other DJ'S Comments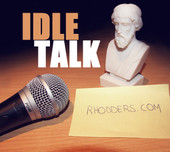 31st Dec 2013 Sadly The End of 1Radio
1Radio and the Crew
Want a real interactive radio station,
Inspire theirs and others creation,
Music from Europe USA and the UK,
But always brightens up your day,
Grunge, hip hop, rock and roll,
Even real 70's Disco,
Smooth Acid some play the most modern,
Even to this I will tune in and listen,
To hear the music of the day,
Oh so different to what I use to play,
If you want to join in they make it real easy,
Shout box, Twitter, Face-book or even Skype,
Chatting about music daily life or even,
Sometimes just pure fun talking tripe,
Mark the Markster the Fifer Lad,
Meeting him on Twitter I'm so very glad,
Get tuned in to his Grieveworld show,
Special mentions especially for you,
Leaves you feeling so very special,
With a beautiful warming glow,
Who the F—K is Rhodders,
That was what I wanted know,
So each day tuned into every show,
Turned me into a Fan of 1radio,
Now GaZ and Suzie announced their baby joy,
Baby will be so lucky their dad just a big boy,
He really likes to play with his very own toy,
But their dad drives me nuts,
Plastic Scotsman indeed,
Come on Gaz face to face,
If you have the guts,
To see a grown woman cry,
When her all time hero you do de-cry,
LadyT she blew me away,
On the day polish music she did play,
Instead of heavy and doom,
Upbeat tunes to lift any ones gloom,
Sean plays all sorts of tunes,
Requests what you like he is cool,
Hairbrush out you can be a fool,
No one can see what's going on,
Not even DJ Colin John
Mark the Irish 1 thinks SB is,
Part of 1radio furniture,
Listening to him with GE,
In the morning is an absolute pleasure,
Now let's not forget the listeners to,
Aunty Val Mrs P and not forgetting Sue,
Across the Atlantic Ocean she has flew,
Just to be here with me and you,
Mr Cheeky (GAZ) promise me,
Free accommodation with DJ P,
Or was that Johnny P
Poor Paladin almost had a pee
His girlfriend would skin him alive you see,
And like Mrs P definitely would not agree,
Careful what you send the shout-boxes way,
Specially if The Smoak is in that day,
Take a snapshot of what you did say,
Next thing you know,
Face-book and Twitter you're on display,
Here comes Kieran Harvey,
They tell me he is not gay,
Have heard about Will Reid,
Have not heard him play,
He's been away on his holiday,
PT the Texas trailer-man,
Get him to play more than,
Five songs if you can,
I am his No1 Scottish Fan,
Mal the Smoothest of this crew,
Will put you to sleep if you want him to,
Chill the brain when you need to think,
Calm the soul and nerves,
When they are on the brink,
Newbie's there's been a few,
Since I started to tune into you,
Adam was the 1st I did hear,
To me young DJ of the year,
Then came Fingertip Phil,
Now the newbie is our Dazzle,
CeeJay is the Dinosaur of this crew,
He plays the golden oldies for you,
Not so good when he plays,
The music of your youth,
You thought hip in your days,
Now part of his golden oldies,
In between the above mentioned,
There are a few more,
Jack, Fred, Luke, Chris M,
Big Tonne, Jonathan, Markman,
Marty-Dee-Donavan, Ross, MightyKaos,
Johnny and Mikie G, Matt, Kat, KA to the T,
Espy, Johnny, Tez and the master himself Spike,
Listen to them all if you like,
O Heck almost forgot,
Johnny O and the one and only Javo,
Finally there is our Tim,
With a name like that you might think grim,
No he has his talents too,
1st keeping order over this motley crew,
From Editor DJ and let's not forget,
The big Boss as well,
But we all think he is real swell,
A100 DJ's A1000 Show's and A Million songs,
If I mentioned you all,
Would take up the whole wall,
Would make this poem to long,
So come on DJ get ready for the next song,
If I have not mentioned you,
Please don't be sad and blue,
There are after all a lot of you,
So this is my introduction to,
The internet station 1radio and the crew,
© May Thomson
2011
Published in Survivorsburg2006 May's Poetry on Blurb.com
To Date this is longest poem I have written ever written for 1Radio.org Re-union Dunfermline July 2011. When we had roaming Reporter Sharing the Hairbrush and a DJ in AWWW set himself on fire we call him PYRO DJ laughing at lines in Poem ect only on The1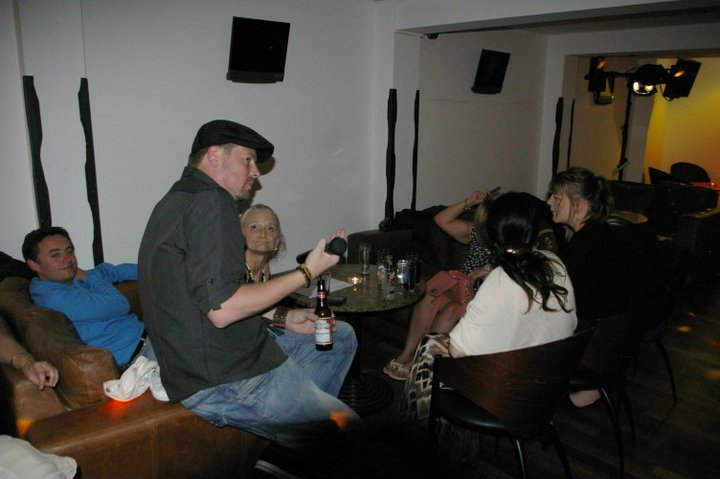 Mark May and Mark at Reunion for my 1st Public Performance of my Work........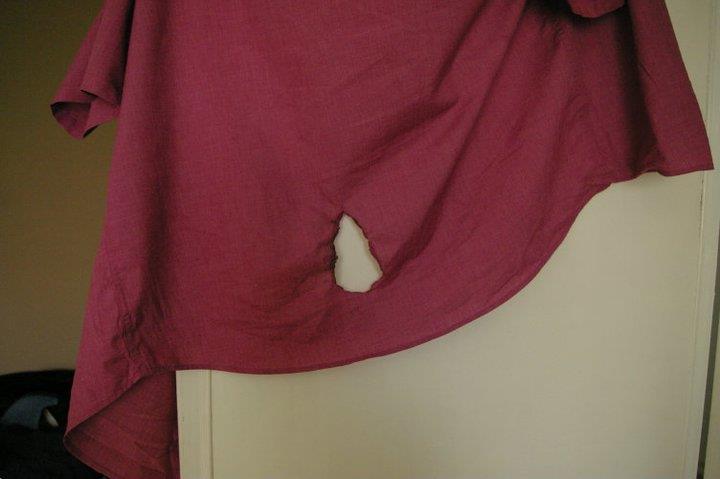 1 of the DJ's was in such Aw at my Performance this was result Guess Who ???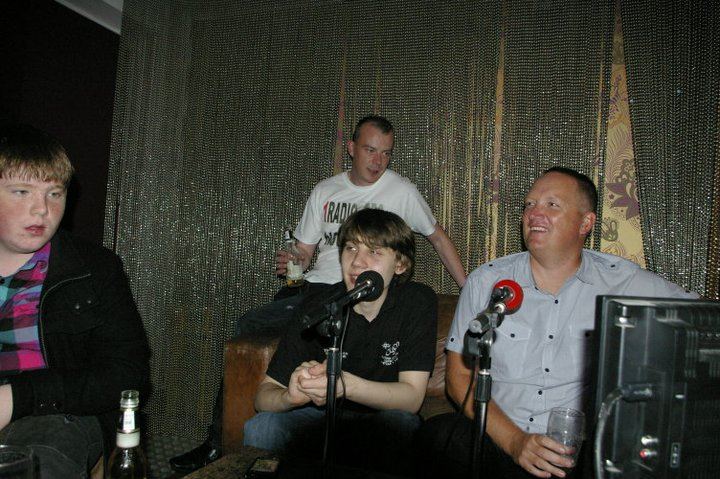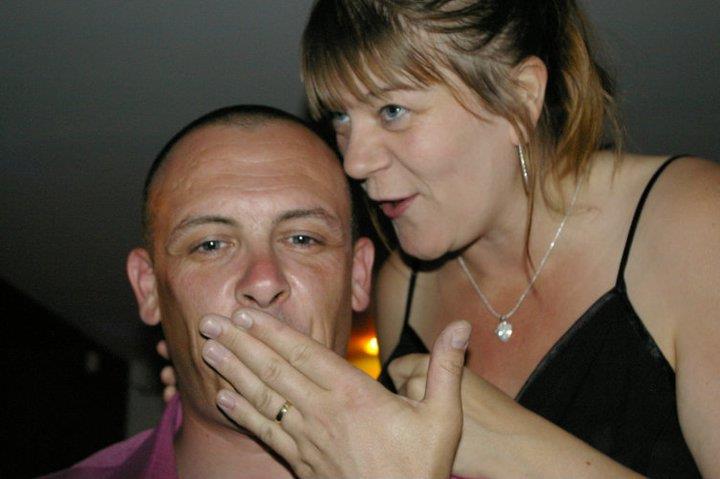 4 DJ'S Here None Responsible for Hole in Shirt Will Reid JP (Norman) DJ PaladinLeeds (DJP) and Kieran Harvey
yes MR PYRO himself Garry (Gaz) Evans with listener Gail Paterson
THE MARKSTER
Now Tony Blackburn is a DJ legend in his own right,
Now we have a local DJ that is just as bright,
We call him the Markster he is really cool,
He plays our requests and we have a laugh,
But this young gun no fool,
Now our Markster he is a bit of a rocker,
Will play a good ballad too,
Then there are the games and quizzes,
That he plays with me and you,
Now he supports his Dunfermline team,
All us ladies think he is a real dream,
Now we adore him none can compare,
He's never happier than in his studio,
Sitting in his big comfy DJ chair,
Now his show is always live and real,
The love for his listeners you can feel,
No matter what happens on his show,
He leaves you with a warming glow,
He has one very special lady in his life,
This lady does not give him much strife,
She is not very big or even tall,
It's his Daughter and she still quite small,
So dear mark this rhyme is special for you,
You always make us smile when we are blue,
So keep up the good work my Fifer lad,
Meeting you on twitter I am real glad.
May Thomson
2011
AAAHHHH the beginning a meet on Twitter to tuning in and listening to a fellow Fifer, DJ (Shakespeare) Mark to staying to listen to your mate to 1Radio Poet Laureate and 1st DJ On 1Radio to have it published on Website
This Was read out By Mark which brought about this 1st You Tube Video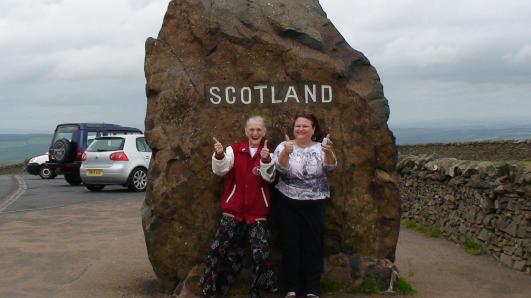 This Is what it was about #Survivorsburg and #Tango2Paris #InternationalTweetMeet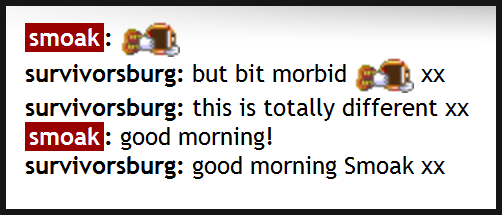 All Over #Twitter and #Facebook before i knew it

Steady Eddie
Invited to a re-union of a different kind,
Met a guy of a similar mind
We call him steady Eddie or oor wee Dutchman,
Will play yir tunes if he can,
Playing Rods Oh La La makes him the man,
He's no very big or even tall,
Best things in life usually are small,
We met through a radio station,
He crossed the North Sea to,
Visit the Scottish nation,
He said it was fair bonnie,
He would come back another date,
This time can you please please translate?
Love the Scots that you speak,
Trying to understand you takes me a week,
Most who visit our Nation,
Castles, Palaces, Museums,
But not a fire station,
That's were Eddie did land,
Arrived for 4 days nothing planned.
Now Will showed him Edinburgh Fair City,
Then 1 day later he had to leave,
That was a real pity.
© May Thomson
2011
This was to Surprise for our Favourite Dutchman DJ (Lord Eddie) Eddie on his Birthday and the beautiful email I got this small gift was enough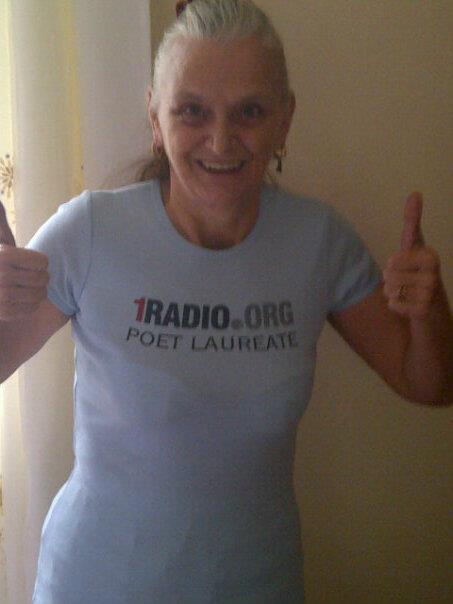 PROOD DAY 1st Phoota's in the Only 1Radio Poet Laureate T-Shirt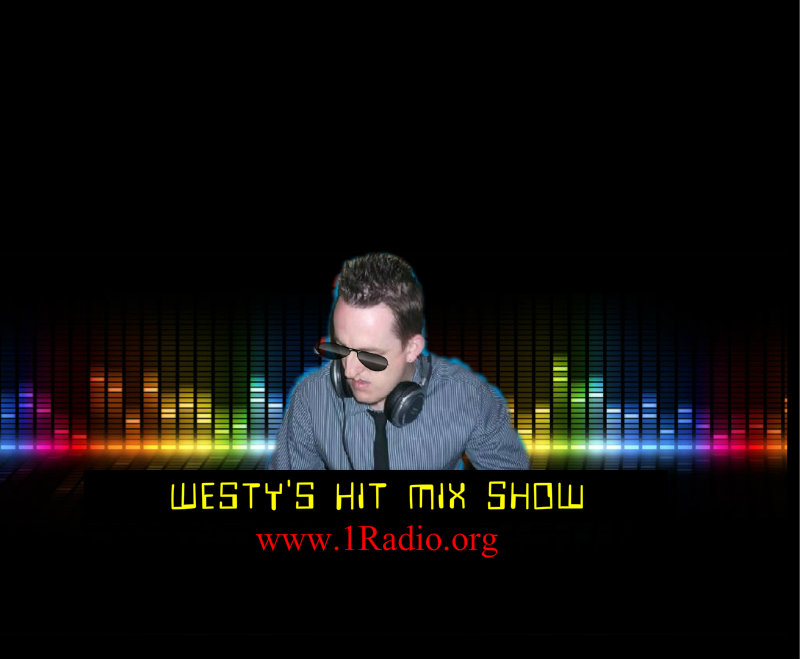 Westy's Hit Mix Show



Tune into DJ Westsound's he does a hit mix show,

Works in an hospital through the day,

Then at night on 1Radio,



We All call him Westy,

New music Old music he will play,

Westy does not come alone,

His family comes along to,



Carol she is his wife,

She's the love of Westy's life,

Deb Mandy his sisters,

Ellie his niece to,

Not Forgetting Mum Chris,

Pops into say Boo,



Westy is our Brummy Lad,

Keeps us happy never sad,

We went around the world in 80 songs,

Ferrari's Helicopter and a jet plane,

Hopefully he will do it all again,



Adam and Josh are his sons

In his shows they take part to,

Intros and countdowns,

They help our westy do,

All these hits he plays especially for you,



As you hear real family shows,

Were all type of music goes,

His mum friends we have became,

We have a laugh our taste in music,

Most times are the same,



So join his shoutbox come join in,

Not being there you will miss out,

And that would be a sin,

So for fun and good music,

Join Westy's hit mix show,

You should by now know where,

Only on 1 Radio.



May Thomson

2012
Djwestsounds feat May - The Hit Mix Show.MP3
Hear The Poet Laureate turned into a Rapper at http://www.1Radio.org by DJwestsounds (Westy) putting this poem to music so Special Thank you to him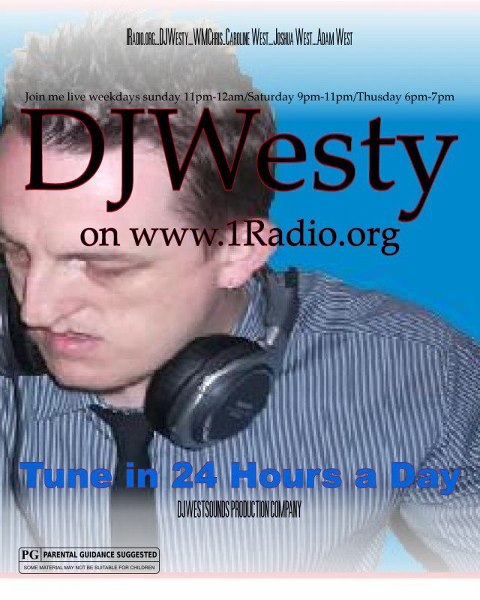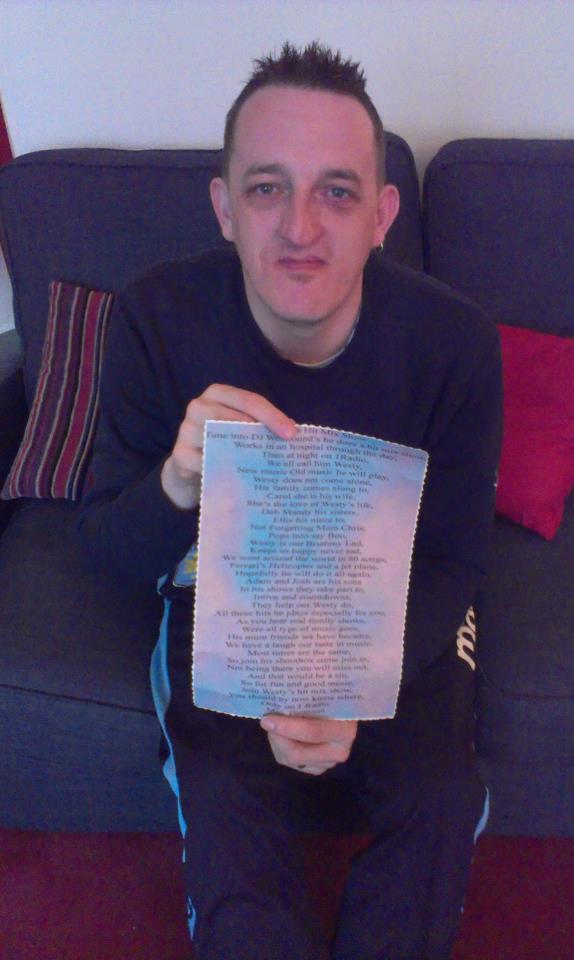 Thank you Westy 1st owner of Special Scrolls

Westy's Mum


Westy's Mum has popped into to say Boo,
No just tae me but also to you,
The gaffer of all Westy's crew,
Laugh is what she will make you do,
When you join 1Radio and The Crew,
The motto Fun on The1 really is true,
Like Westy works in a hospital through the day,
Catch her on the1 every Saturday,
Her idol Michael Buble,
He sings for the Granny,
My idol Rod Stewart,
Still melt's this young lassies heart,
The banter between us makes others giggle,
Poor Westy stuck in the middle,
If Westy acts the fool and start's talking crap,
Always on hand to give him a good slap,
Westy's Mum but also his Producer,
Around the world in 80 songs,
Countries highlighted in 1 song,
Quiz show's with daft answers under pressure,
You know your answer is wrong,
All filled with laughter and fun,
Adam Josh her grandson's from her son,
Proud Lady Mum and Nana to,
Sore side with laughter,
She will cause for you,
Her music and movie knowledge 2nd to none,
Let's give her Newbee Presenter/Producer of The1,
No matter your age,
Never too late to take to the stage,
So to Westy's Mum I send Love Peace and Harmony,
With loving words I have written in Poetry.
May Thomson
2013

For Mum of 1Radio Westy's Mum asked if i could write something for her like i had for her Son
She like it and happy for it to be included on our Page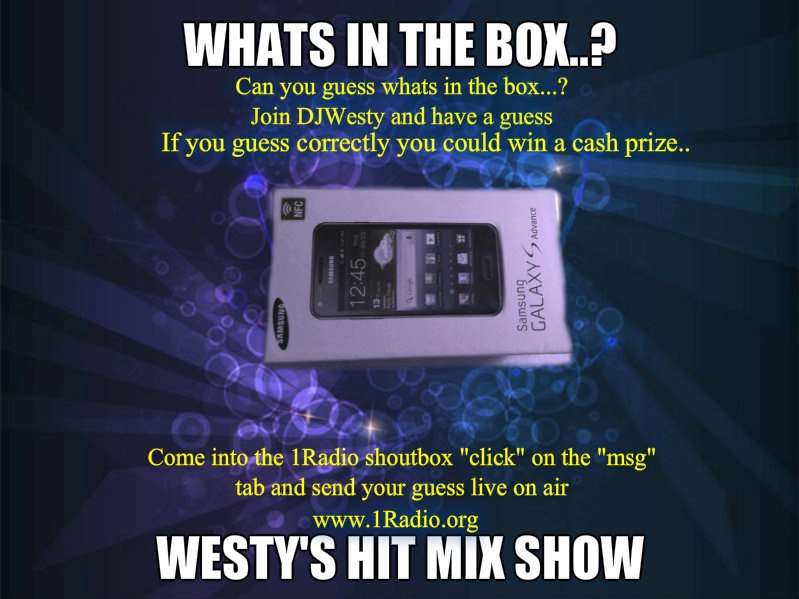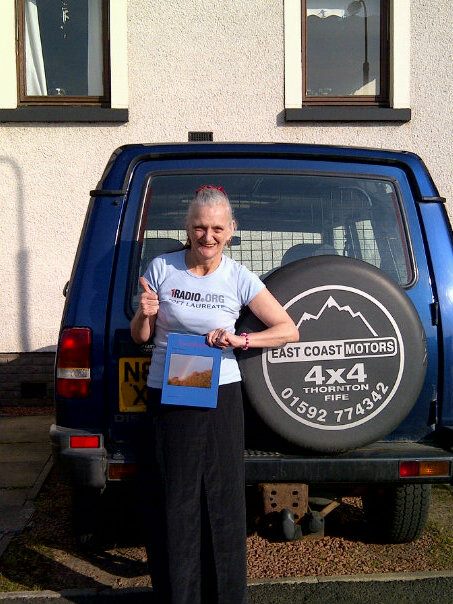 A Very Proud Day Poet Laureate with her 1st Published Poetry Book
In Her Official Poet Laureate T-Shirt
Thanks to you All, your Support and Belief in Me i hope i make you as proud to have me as your Poet Laureate as i am to be your Poet Laureate
May
xx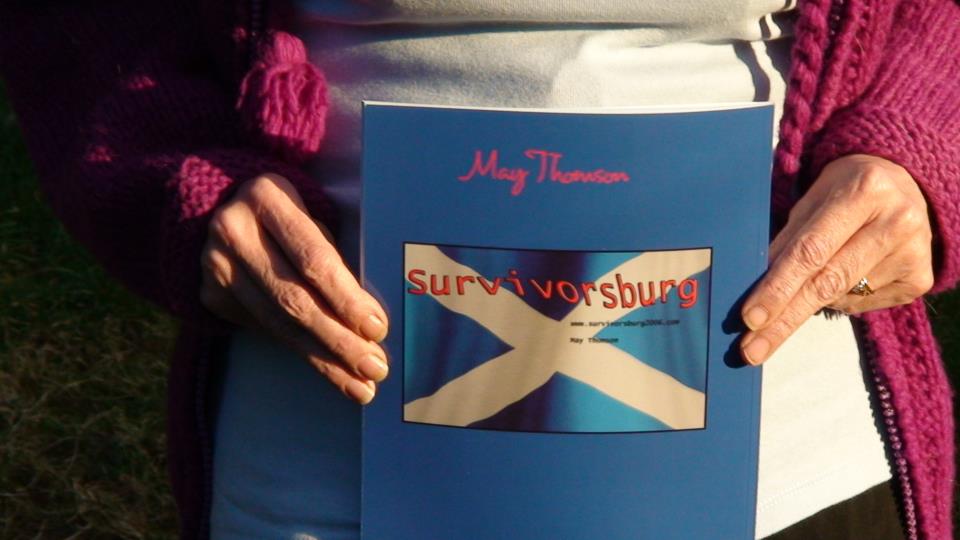 Very Proud Day For Survivorsburg to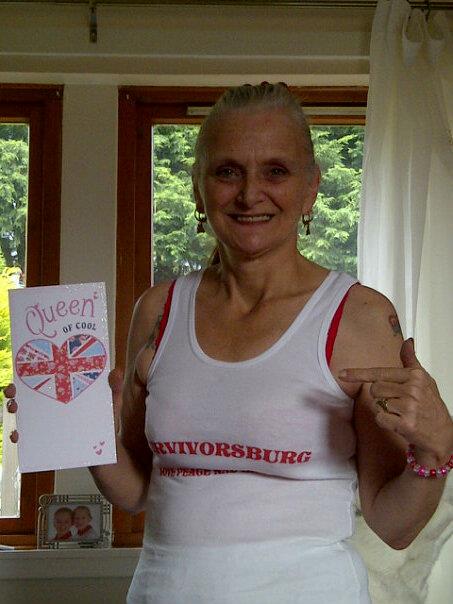 But Always Queen of Cool card to prove it lol From Friend Euan Williamson aged 18yrs (Fan Of 1Radio Poet Laureate)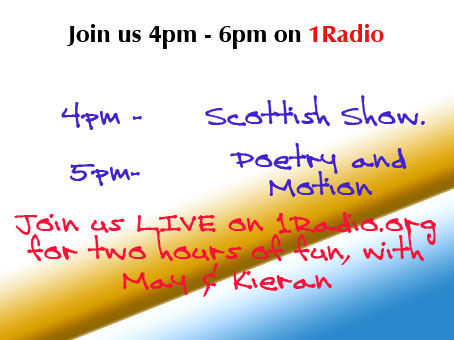 This was great fun by this time did few shows but this was 1st joint actually in same studio lol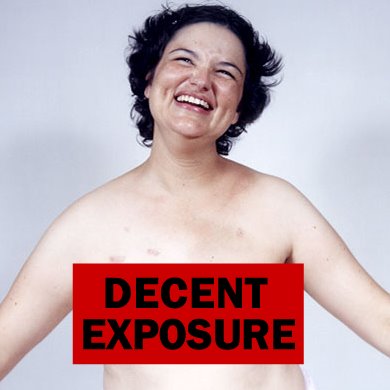 Burning Bridges


Never burn your bridges,
In a way that can never be re-built,
They can stay burnt for a while,
Till time right to be dealt,

Not for today tomorrow or next week,
For the next generation,
The love of life's creation,
From the wilds of the jungle,
Green or concrete,
Pressures of survival,
Makes us all compete,

Everyone needs time out,
For re-filing and sorting,
Sometimes taking a different route,
Nothing can be resolved,
With fear anger and violence,
Heal with understanding,
Strengthen with most of all,
Love and tolerance,

So although the bridge,
Might not be there,
Leave the supports,
In case one day you can repair,
And once again be able to share.

© May Thomson
2012


This was inspired By Espy's (AKA Shawn Christy) show's both Decent Exposure and His Bridge's show's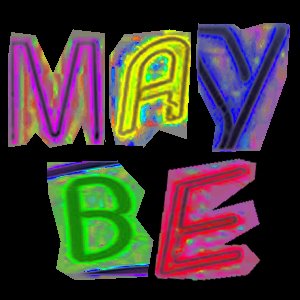 Even Special For The Poet Laureate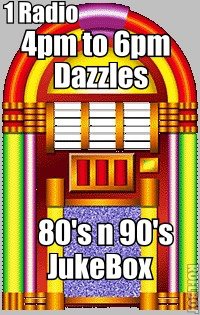 The Duel On The 1

Who's the cheesiest on The 1?

Queen Dazzle???? Or King Sean????,

This duel is going to be fun,

Could also end in tears,

Not of sadness but laughter and cheers,



Noo Dazzle nae help fae Pete,

This duel on your ain you must compete,

Message fir you tae Sean,

Nae Daddies help either,

1st Mr Cheese we knew on The1,



Now THE DUEL is on,

The station that has most Fun,

Who will be Cheesiest DJ on The1.



© May Thomson

2012
Are We Having a live Wedding on THE1 ???
Wedding on The1



A wedding on 1 radio,
Will it be live on Dazzle's show?
Dazzle has proposed to Pete,
I'm booking a front row seat,
To see Pete become Mr/Mrs Peat,
To both of you I wish ever happiness,
For your journey ahead,
2 lovely people it has to be said,
So all the best to both of you,
Always be happy never blue,
With a love that's so true.

May Thomson
2012

03 May 2013 Talents Unite Dazzle and Pete's Wedding Portsmouth England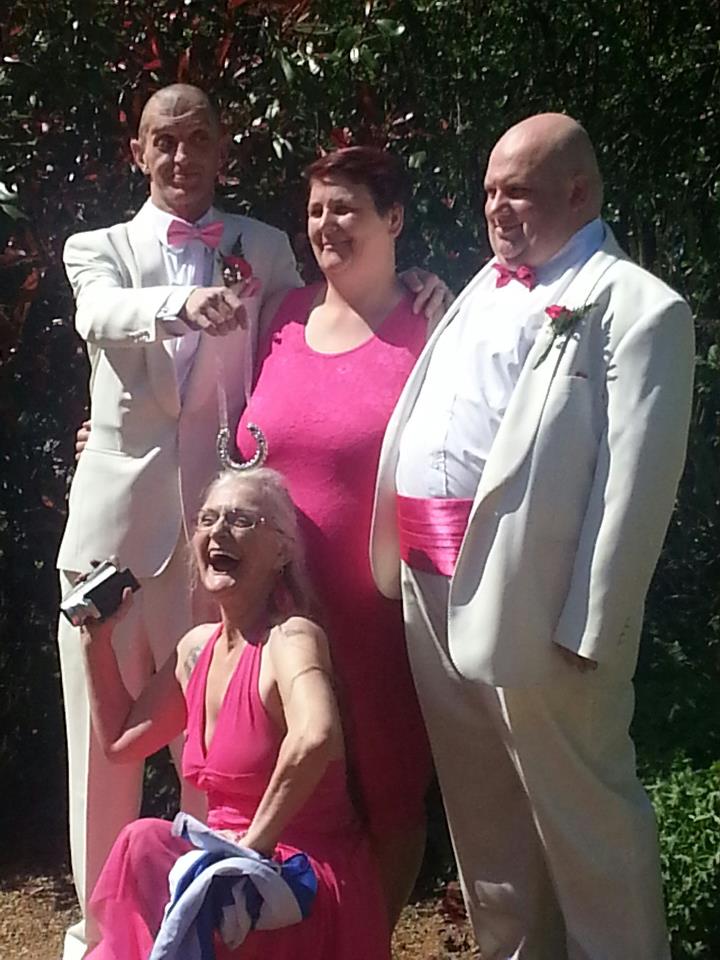 Beautiful People Beautiful Weather Wedding of Year before Poet Laureate Arrived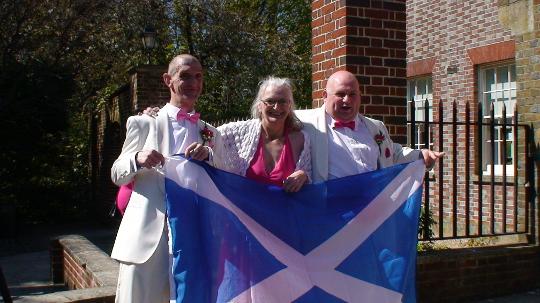 The Flag Went to who else could get 2 Englishman to hold her Scottish Flag lol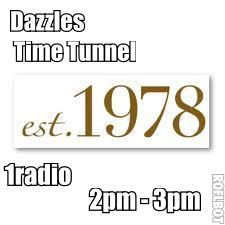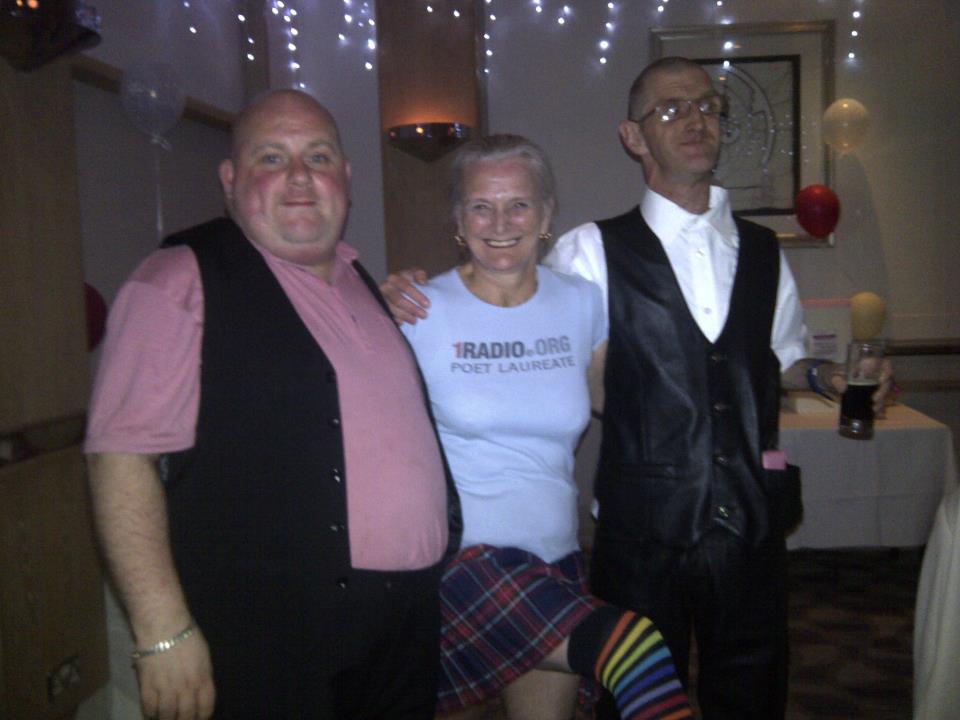 Dazzle and Pete's Wedding 3rd May 2013 Were Will The Poet Laureate Appear Next ??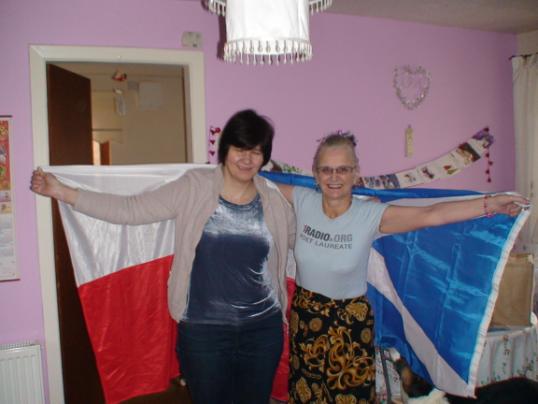 Poet Laureate (SCOTLAND) Hosting Lady T (POLAND) Christmas 2012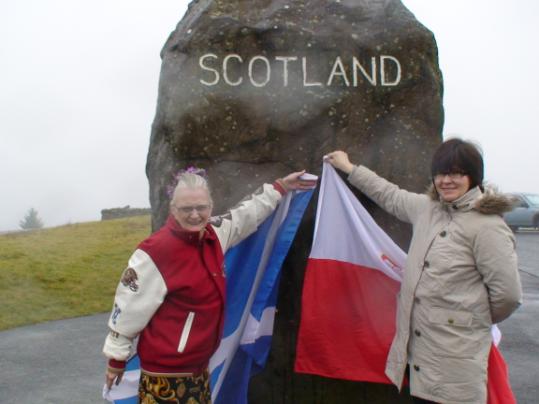 At the Border with National Flags Poet Laureate and LadyT


LadyT's Scottish Christmas
LadyT to Bonnie Scotland Decided to come,
Experience some Scottish Fun,
Tae the Woollen mill and Borrder I took her,
Dry doon in the toon,
At the Borrder pouring doon,
We almost go blown oo'er,
Wi oor National Flags held high,
"Take the pictures quick",
To my Hubby we did cry,
Christmas dinner was 1st Class,
Terasa was a really nice Lass,
Sadly time moved on and we had to part,
Homeward bound LadyT had to start,
As we said goodbye I sent her on her way,
She got and took home,
LOVE PEACE AND HARMONY.

© May Thomson
2013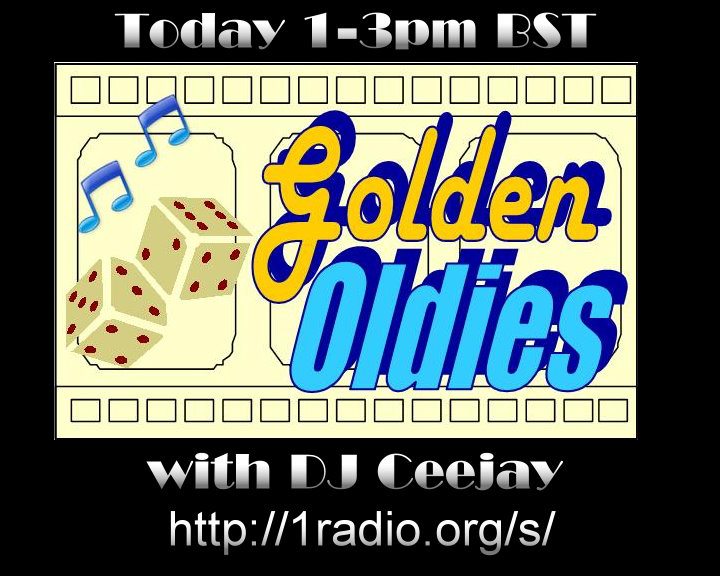 Happy Birthday Dinosaur

Noo like his show this poem a week late,
So hope he thinks it is worth the wait,
Noo oor dinosaur is 21 Again,
Never knew a young Dinosaur could reine,
The airways oan Internet Radio,
Wi his Golden Oldies Show,
"Well his most Famous"
New Talent and Old he will support,
Fae Sony and Cher tae my love Rod Stewart,
Adam Zerba, Dalton Cyr a whole lot mare to,
He has introduced to me and you,
Oor dinosaur not only interested in his music though,
Dinosaur also a Techy Geek tae,
Wi his towers iPads he does like tae play,
From old devices to the latest of the day,
Great tunes he will always play,
Sorry CJ sadly no Cake,
I am good Poet but terrible Bake,
Hope you had a great Birthday,
So here tae Oor Dinosaur,
The one and only CJ.

May Thomson
2012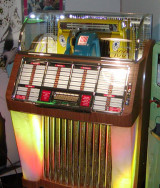 BOOMBOX
New DJ on the one,
He's Handsome and good fun,
His show called the Boom Box,
He is clever and smart like a fox,
Andrew Weaver my little Diva,
Think he is a big achiever.

© May Thomson
2012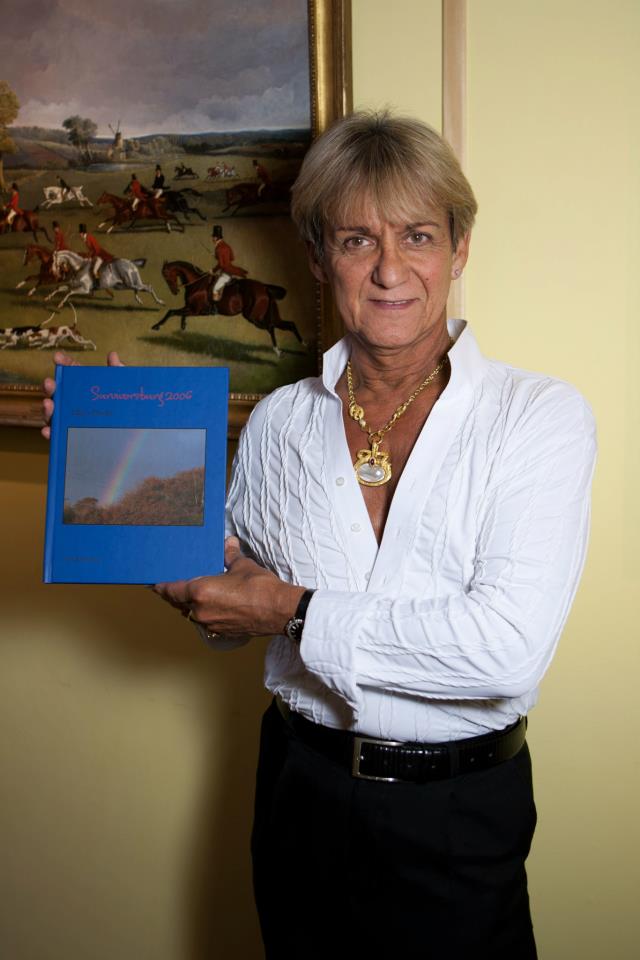 1st Celebrity with 1Radio Poet Laureate's Book thank you Ian Micheal Towning "Dickinson's Real Deal"

Poet On The 1
You might think I am mad or crazy,
But you all know not lazy,
I think you are all swell,
You aid me in keeping well,
From the dream team to oor Tim,
You play your tunes sad happy and smoak does grim,
Suzie Ash Lou Lou and me are your lady crew,
Keeping us smiling and happy is what you do,
Mark Gaz JP and me is The Fife Team,
Oh shit Gaz you lost the stream,
World DJ's we do have here,
Holland Poland Usa and here,
So let's all in the shoutbox give a big cheer,
All of them best DJ of the year.
May Thomson
2011
this was written while i was being interviewed by Garry Evans on his Rewind show,
this was an impromptu poem hope you all like it x
the fun with Challenges ect on 1Radio from Impromtu poems to Planned all been even the Cheeky ones Oh (do i be good or naughty) and publish cheeky one to??????
Good at moment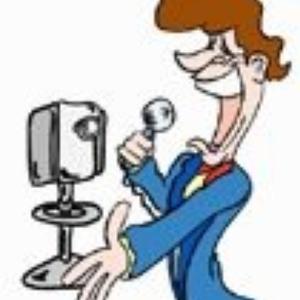 Texas Cowboy
PT the Texas cowboy,
His show brings me joy,
Talk to him on Skype,
Saves you having to type,
When it comes tae my Scottish slang,
He has a hard time getting it right,
Usually he gets it wrang,
So fae ma castle in Scotland
So Bonnie and wet,
Chatting with him I never regret.
© May Thomson
2012
The Cowboy who makes me smile every time were good at the Yacking Partner and 1st DJ to have 2 Poems written for them then published on Website
Well were do I start here mmmm Mark (another Fellow Fifer) well what I have had to put up with from our DJ (Pyro) Gaz Cheek, Slagging off my Anglo/Scot Music Hero (plastic scotsman) Rod Stewart bboohooo but great great laughs and fun from setting himself on fire at last years Re-Union on my very 1st Public Performance but have joked and laughed about it ever since 1st Radio Interview 1st DJ to have New Baby in his Family since I joined The1 and lots of other 1st together from projects ect my (Cheeky Fifer Pyro) Gaz the DJ
This Was Special Birthday Wish for a show i love x
USA WEEKENDER


From nine to five, to born in the USA,
Get tuned into to hear,
On either Friday, Saturday or Sunday,
It's a USA Weekender,
Type into your computer 1Radio.org,
Go on a USA bender,

Rock and roll rhythm and blues,
Soul or even country,
60's 70's 80's 90's,
It's going to be a real fun 3 days,

From Bruce to Dolly,
From Michael to Kenny,
You can hear them all,
We'll be singing and dancing,
Having a ball,

From the Blue Ridge mountain of Virginia,
Through to: it don't matter if you black or white,
A weekender that will just be so bright,

So come along sing a song,
Join our shout box join in the fun,
For all of this side of the big pond,
Can just imagine the American sun,
You can do the twist or a Jive,
All of this is Broadcast live,
Be there or be square,
We are the station that likes to share.

© May Thomson 2011


Who remembers the Usa Weekender tracks we knew track we did'ent yet another Excellent Weekend on 1Radio
Listen and Relax

Mac the Quietest DJ on 1 Radio,

Listen and Relax is his show,

Normally in the evenings,

Is when you can hear him play,

Works as a metal designer through the day,



Now Mac's a polish man,

He thought I was an American,

Had to send a message to prove,

A Scottish lass I sure am,

Then he could hear my Scottish twang,



So tune into DJ Mac,

He'll play you a relaxing track,

Internet station 1Radio.ORG,

That's the only place to be,

So tune into the One,

Every day and night,

Lots and lots of fun,



May Thomson,

2012
A request that gave me a challenge not my usual comes quite quickly this took me few weeks so Wee apology Mac for the wait "but hope it was worth it

This 1st Official Poet Laureate
Video Listen And Relax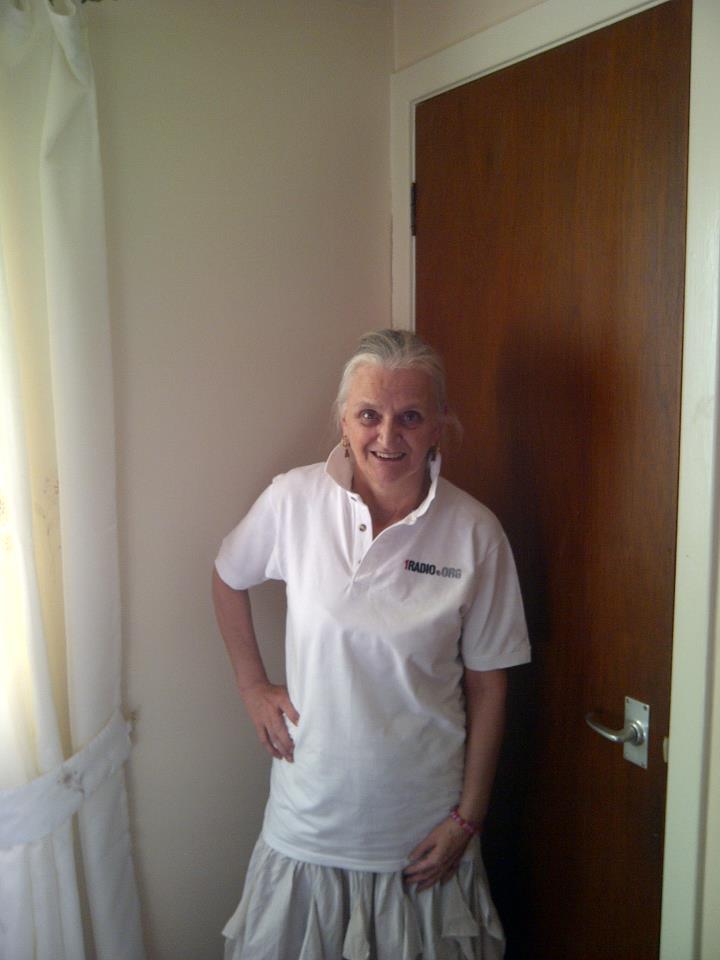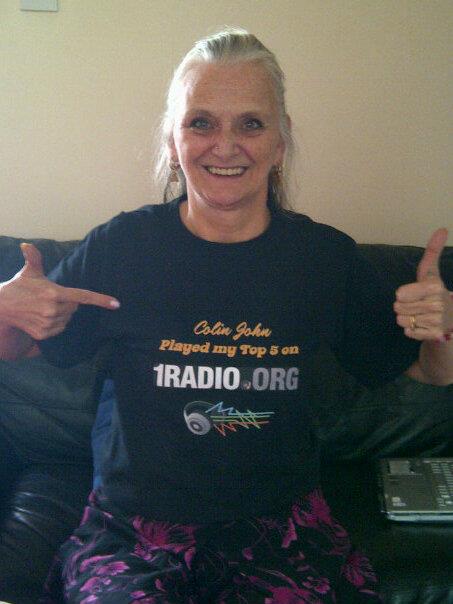 in My Limited Edition Colin John T-Shirt do you have 1 ??



HigNoon Classic Rock Show Only Place to be On a Saturday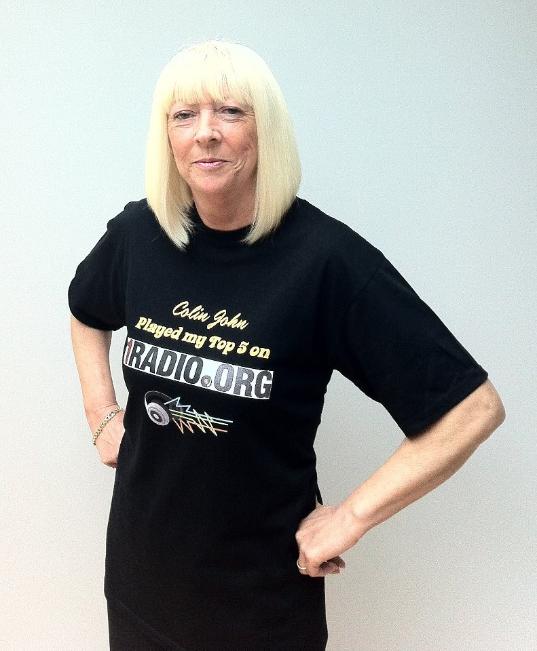 Pauline in Her LIMITED COLIN JOHN T-SHIRT you kinda have to when your the misses lol lol xx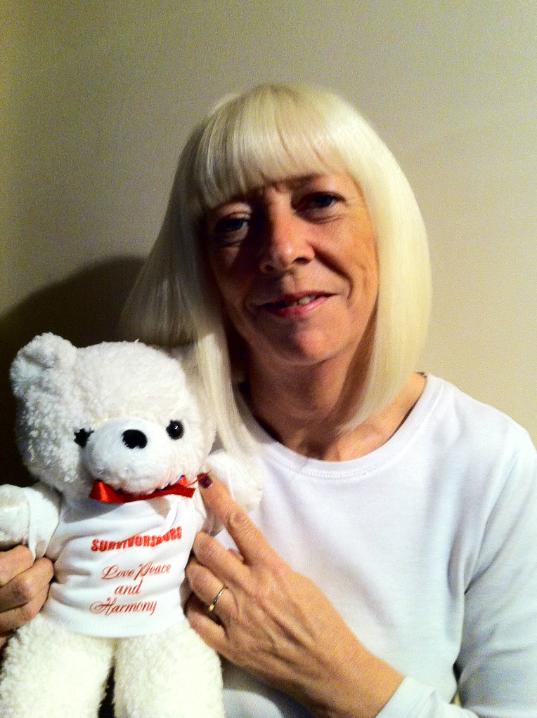 This lovely Lady was Also 1st OWNER of a #SurvivorsburgBear do you have 1 ??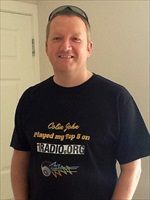 OOr Very Own Mr Will Reid with his LIMITED EDITION COLIN JOHN T-SHIRT but will he also own a BEAR ???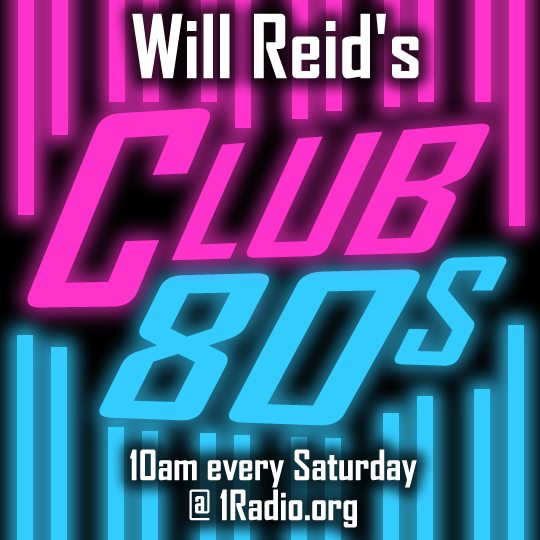 Club 80's 500th Show
Tae a re-union I wid go,
Met a DJ specialises in ITALO DISCO,
At that point had never hear his show,
His holidays in America he hud been,
Nae Maple Syrup YET hiv a seen,
So a kin make him special tablet,
Comes highly recommended,
Those who have eating it,
Just the best you can bet.
Will's no been lucky enough ,
Tae Try it YET, ??

He plays the 80's Decade,
"Long gone but not forgotten",
Mr Pink Tunes Keeping them Alive,
Also an inspiration to keep going,
You'll get there, if you believe, and strive,
His Good self but also the Boss,
Not You Tim I'm talking about,
Will's beautiful wife of course,
ITALO DISCO, 80's Club of course High Energeee,
Secret folk's oor Will even played?
ROD STEWART Especially for me,
Cheesy Grin that nicht,
A kin tell yi aw
It filled me wi so such glee,
Noo a use tae work the Fitbaw grunds,
Up the Toon,
Yid hid a choice Green or Maroon,
Honouree Hibbee that is me,
At least wi that were united an agree,
Today His 500th show,
Only on 1Radio,
So let's celebrate with our Moto,
"FUN ON THE1",
Join "1Radio And The Crew,
Strange Will yi hid a Wee Mention,
In that 1st yin too,
Remember night we met,
Listener who wrote Poetry,
1st time read ma work in public tae
Of that I have no regret,
Now with Great Pride,
For your 500th Show,
I write as your Poet Laureate,
Noo let's aw join in the Fun,
Fir 80's ITALO DISCO CLUB
And High Energeee,
On The1 "Oor Willie is No1,
Sure yi'll aw Agree,
© May Thomson
2012
1Radio Poet Laureate.
For Club 80'S and Will Reids 500th Show hey Mr Reid the only other person a pit green and white oan ma website fir, is my Man Rod but he wrong Green and White lol lol
Here's to the next 500 Editions of Club 80'S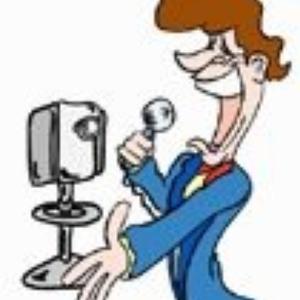 PlanetTexas



PT is in Texas USA,

Always brightens up a blue day,

More chit chat than music,

But will play what you pick,

Real seek of his boasting,

About his heat and it roasting,

When under dark wet Scottish grey skies,

That were we do our coasting,



© May Thomson

2011
Well sure this was written for you in the early days 1st poem written for DJ after joining 1radio on our evening Skype Yacks and "Yacking about nothing in Particular" our DJ (Texas Cowboy) ( Chat King) PT he has few Titles but always make you smile to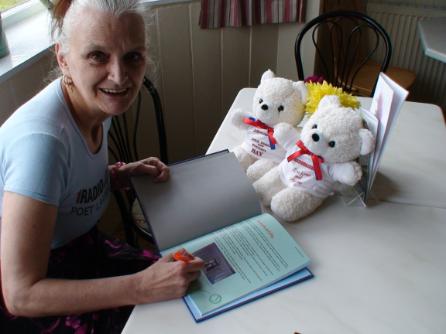 This is a momentous occasion in Poet Laureate Life Who is this book being signed For ? Celeb No? The person this being signed for is a very Special lady in my life my Ma's 83rd Birthday (Mother-in-Law) best mom in world to me.
Her Daughter -in-law not a benefit bum, Working to help others and Maybe even inspire others.
Her wonderful Husband and My beloved Da has dedication (miss yi da) in book:
he left me a gift of love in a few words but I carry in my heart a Forever.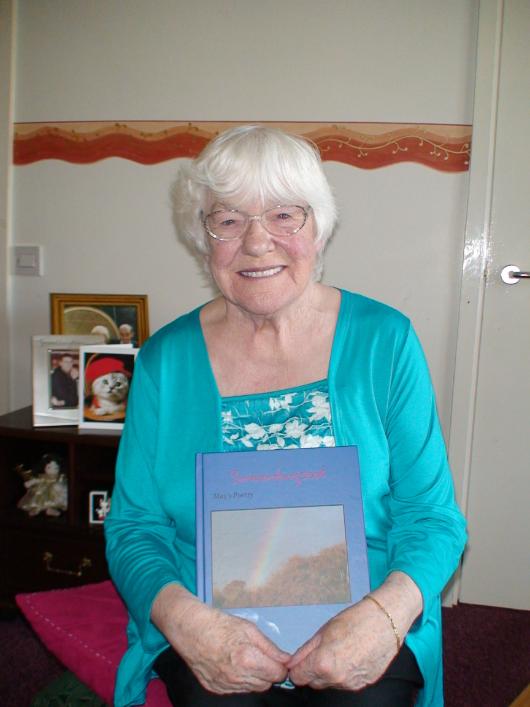 Poet Laureates Ma 83rd Birthday with signed Copy of Book
9/11 Ten Years On



Who does not remember what they were doing?

Ten years ago today,

Household ironing I was doing with my T.V on,

News Flash came through,

Change channel watch with horror and dismay,



How human beings can be so cruel,

They think their way is right,

So with terrorism they thought they would rule,

But we are also no fool,



As much horror I witnessed that day,

With every bad, good did outweigh,

I saw bravery, fear, caring, death,

Through all that, what shone through most LOVE?



The light of Love will always win through,

When we pass love on to each other,

Or when someone is blue,

A little love will make the smiles true,



So look at the future of the children,

Of those no longer here,

Remember love will always beat fear,

Letting in rays of bright sunlight,

Pray daily they never have to fight,



Fill their hearts with love and peace,

Hopefully one day all wars will cease,

Send love peace and harmony,

To everyone's loved ones memory.



© May Thomson

2011

1St Year On 1Radio

1 Year Espy has been on the1,
Lots of shows he has done,
Hopefully all of them fun,
Show's with so much diversity,
Like myself he writes poetry,
The only Decent Exposure I know of that's legal,
Espy hails from the land of the eagle,
So fae the land of Scottish Slang,
I sing a celebration sang,
Congratulations and Jubilations,
Espy' 1st year Celebration.

May Thomson
Poet Laureate
2012

This beautiful lady keeps popping up lol lol lol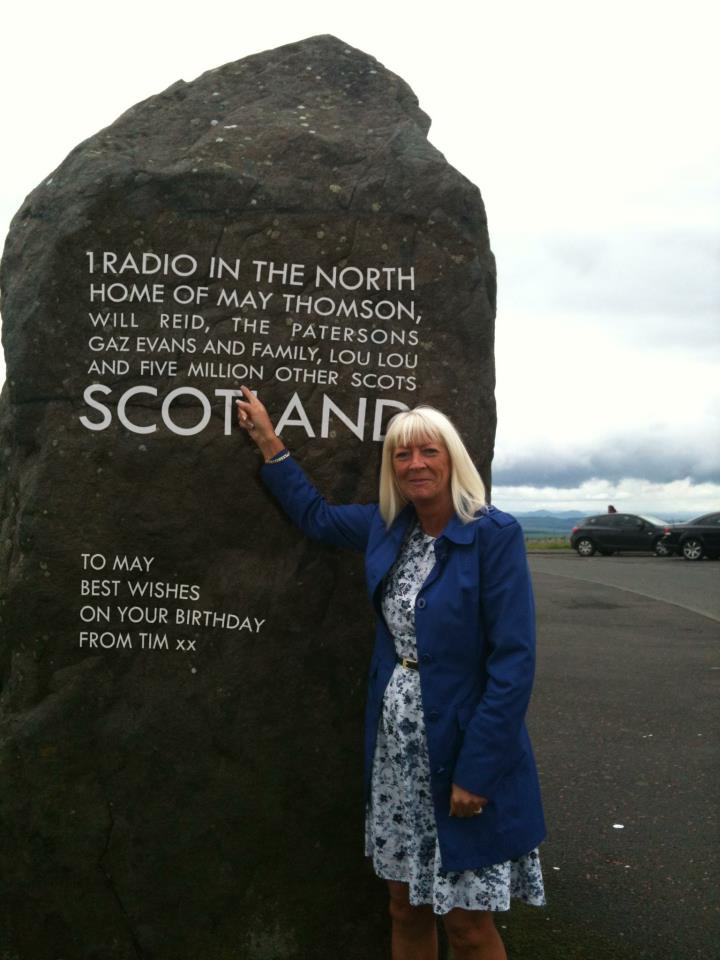 Boss not immune to jokes either The North Mr Longhurst is called Bonnie Scotland
Variety Show
DJ Rams Variety Show,
Can be heard,
Only on 1radio,
From South Africa to the UK he came,
Weather here defiantly not the same,
He'll play any music that you ask,
He is a smarty pants setting me this task,
So tune into his Variety show,
On the best internet station,
Only at 1radio.

May Thomson
2012

Today Top News From: Survivorsburg Poet Laureate
Awaken to News Flash Via vakart.org,uk see below: a #Missile Attack in #Texas Poetess (PT THE COWBOY will Survive) How Will PT translate this story will #PoetLaureate be CHOONED tae fill the shootbox foo Oh laughter to find out #Tune in 1Radio.org tae find oot . ???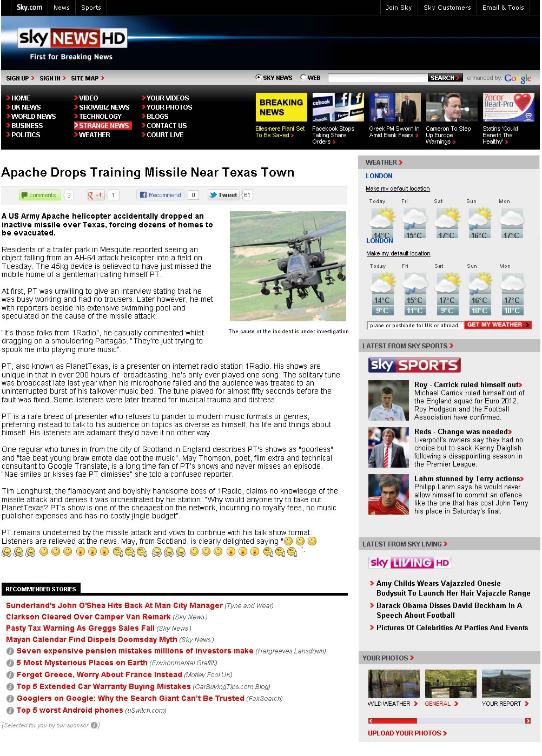 Hearing the wonderful PT trying to read this on air was hilarious "FUN On THE1" our PT has had a challenging 2012 so wish him all the best and good health in 2013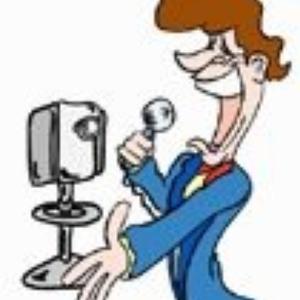 PT's Return
PT has made a return to The1,
Noo the Yacking starts,
And the soap box of fun,
The Cowboy is back YYEEHHHAA,
The big blue mug full,
Having him back is so cool,
So Fae the Castle,
Tae the Trailer Park,
Here's tae a cracking guid Yack.

May Thomson
2013

Poet Laureate's Real Life Hero
15th Jan 2013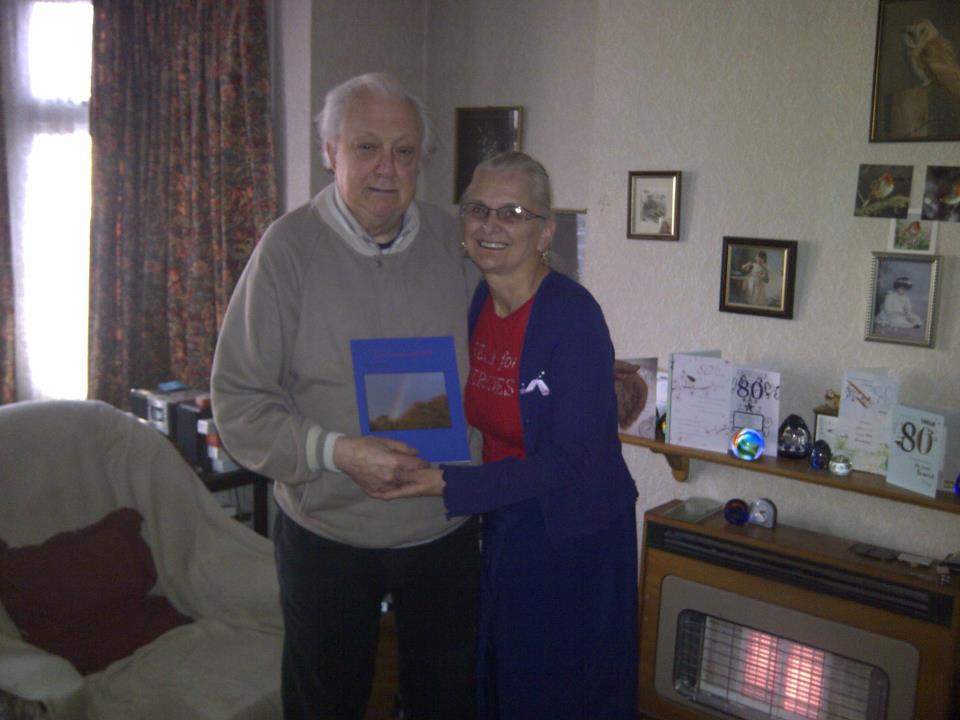 Poet Laureate with Her Uncle Mick (Mr Micheal Carter) 80th Birthday with Book

Martyn Brown


Do you know Martyn Brown?
Nae relation to Mrs Brown,
A DJ on 1radio,
Vinyl Frontier/ Old Gold and Rare his show
From 60's to present day,
On 1 radio you can hear him play,
Noo he plays my Rod Stewart,
He knows Rod melts,
This Scottish lassie's heart,
So come join in the fun,
Only on the1.

May Thomson
2013

New Piece of Fun
Poet Laureate Quiz
1: How did I find 1 Radio.......................?
2: What is the New Dream....................?
3: Who is My Favourite Artist ................?
4: Who are My Favourite Band ..............?
5: What is my Longest Poem written to-date........?
6: I have a Special Track by 2 female Artist Name Them and The Track......?
7: What 2 Events took Place last March that made me very Proud....?
8: Who did the Poet Laureate Meet up with at Christmas...?
9: What does JP Gaz May all have in common?
10: What recent event did Poet Laureate attend........?
There will be small Prize for Winner
Some easy some more difficult but all answers are out there
Good Luck
May xx
Poet Laureate