A thank you for local Medical Center For all they do the whole year through with a little dress-up and performance of the Poem below.

Merry Christmas
Today as Grandma I dae appear,
Tae bring yi laughter and Christmas cheer,
And of course a Guid New Year,
To brighten yir day,
Just to wish yi aw a wonderful Christmas day,
To thank you for all you do,
Day after day the whole year through,
Noo my real madness you have seen,
Here's tae one and aw,
A Happy Prosperous 2014,
Merry Christmas Everyone
Xx
© May Thomson
2013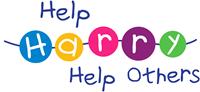 ODE To Rabbie
Dear Rabbie you make us proud,
Poetry to music we sing aloud,
Poetry written in Scottish Tongue,
Even today Rabbie your the one,
Fae Auld Lang Syne Tae your Love is like a Red Red Rose,
To follow you now the path I have chose,
With us all our lives through,
See the Beauty and Pride of Nation,
Through the pictures that you drew,
In your native Tongue,
Now today being played on the1
May Thomson 2012
2011 Bye Bye
Started 2011 in ma auld hoose,
Moved Abode to area quiet as a moose,
Fae then everything seemed to go right,
Helping other's now with my own in-sight,
Daein poems for Help for Heroes,
Honoured to be asked, to the challenge I rose,
Meeting folk on media sites,
Making connections loving and bright,
Noo in this society of oors,
Once again I feel I make contribution,
No through grafting day efter day,
Through loving vibration and new creation,
New freend's have arrived some old one's gone,
All have helped me stay strong,
Fae Website tae Radio even a T.V Audition,
It's all happened this year tae me,
Makes me so very happy and feel free,
So forward tae 2012 wi eyes wide and bright,
What the New Year holds some in sight,
Anticipated wi great delight,
This time on my own merit,
Now happy to accept the credit.
May Thomson
2011
Sent with love to my Family, Old and New Friends a Merry Christmas and a Very Happy New Year 2012 LOVE PEACE AND HARMONY SENT TO ONE AND ALL survivorsburg2006 AKA May Thomson xxx
For those that tuned into Garry Evans Rewind Show 12/10/2011 1radio.org you know i had Audition for BGT on 22/10/2011 Surprise Surprise poem of Story so Far.
The Audition
Few weeks ago an email I did receive,
3 weeks a poem to write and an act to conceive,
Idea came into my mind quite quickly,
Poetry but made a bit quirky,
An Old Lady I became,
But like that I would not remain,
Don't think they had a clue,
What I was about to do,
A teenager I did turn into,
My full costume completely together,
I did not achieve till earlier that day,
But forward I continued on,
Then the timing went wrong,
Like a pro I continued along,
They still had no idea,
The finale was about to appear,
Off with the mini and into Hot Pants,
Turn around "don't touch" with a pair of hands,
Was written across my rear,
Find out if you get through next "YEAR",
The mini got stuck 3 times on the heel of my boot,
Would have to be on the bad foot,
A fantastic day we had indeed,
It has sown a different seed????.
May Thomson
2011
Published in Survivorsburg2006 May's Poetry on Blurb.com
30th Nov
St Andrews Day
St Andrews Day Fly a Flag of Blue,
Pipe's Drum's Fiddle's kilts and Tartan to,
Celebrating a future bright for me and you,
A Nation history does tell,
The Big Fight for FREEDOM,
Then why no party and have some fun?
Celebrating our Nation's number one.
May Thomson
2011
Seasonal Poem
Little Angels
Oh little girl inside,
I am so glad you survived,
Mother Nature that nurtured to,
Days of great horror and fear,
1st mother to make me cry joyous tear,
Now that little girl truly believe in angels,
Sent from heaven above,
Now her world surrounded by love,
Knowing all along truth and love,
Will always conquer,
Hurt fear pain and horror,
You were never off your rocker.
©May Thomson.
2011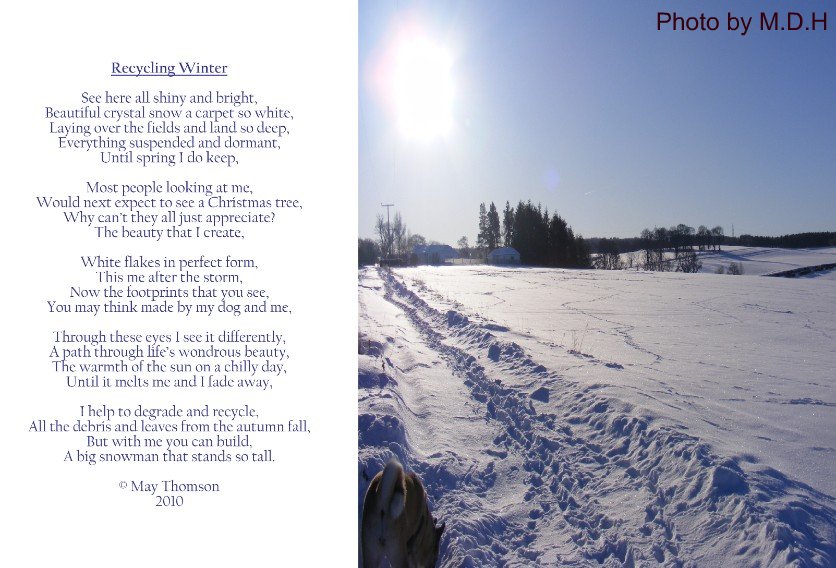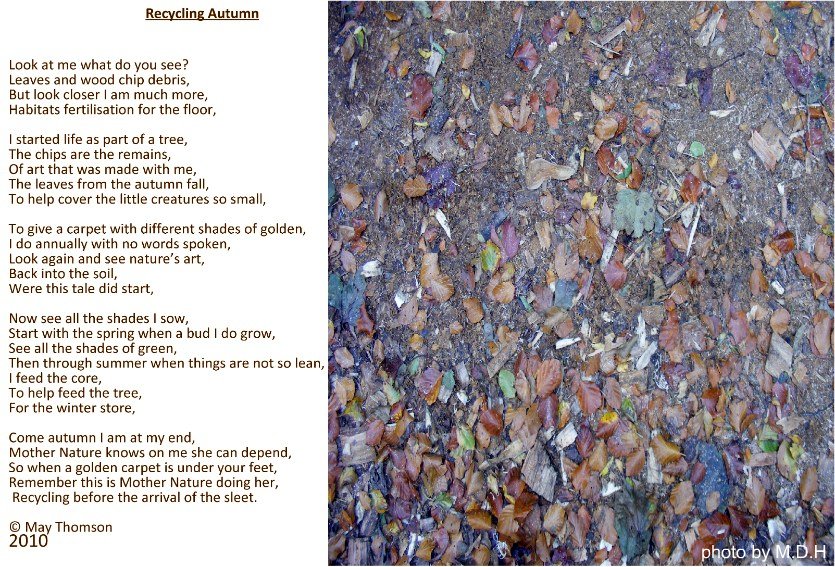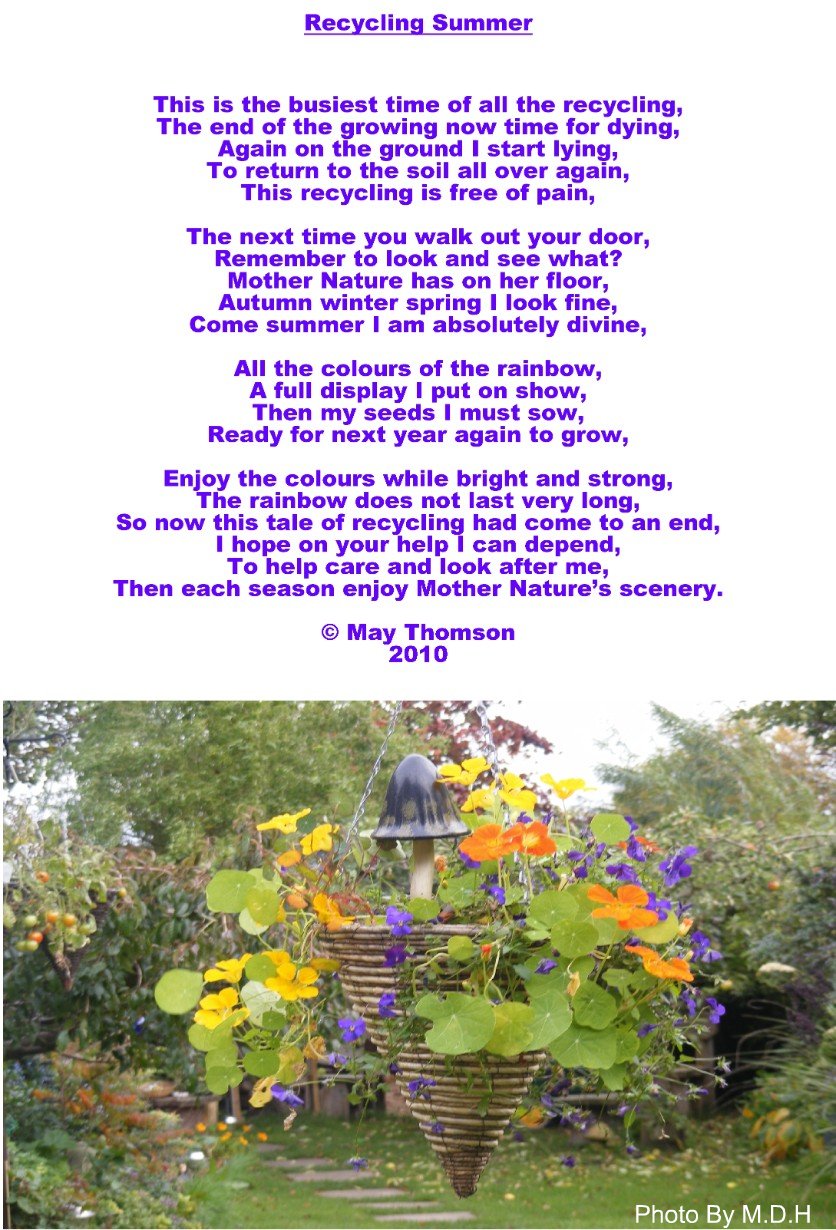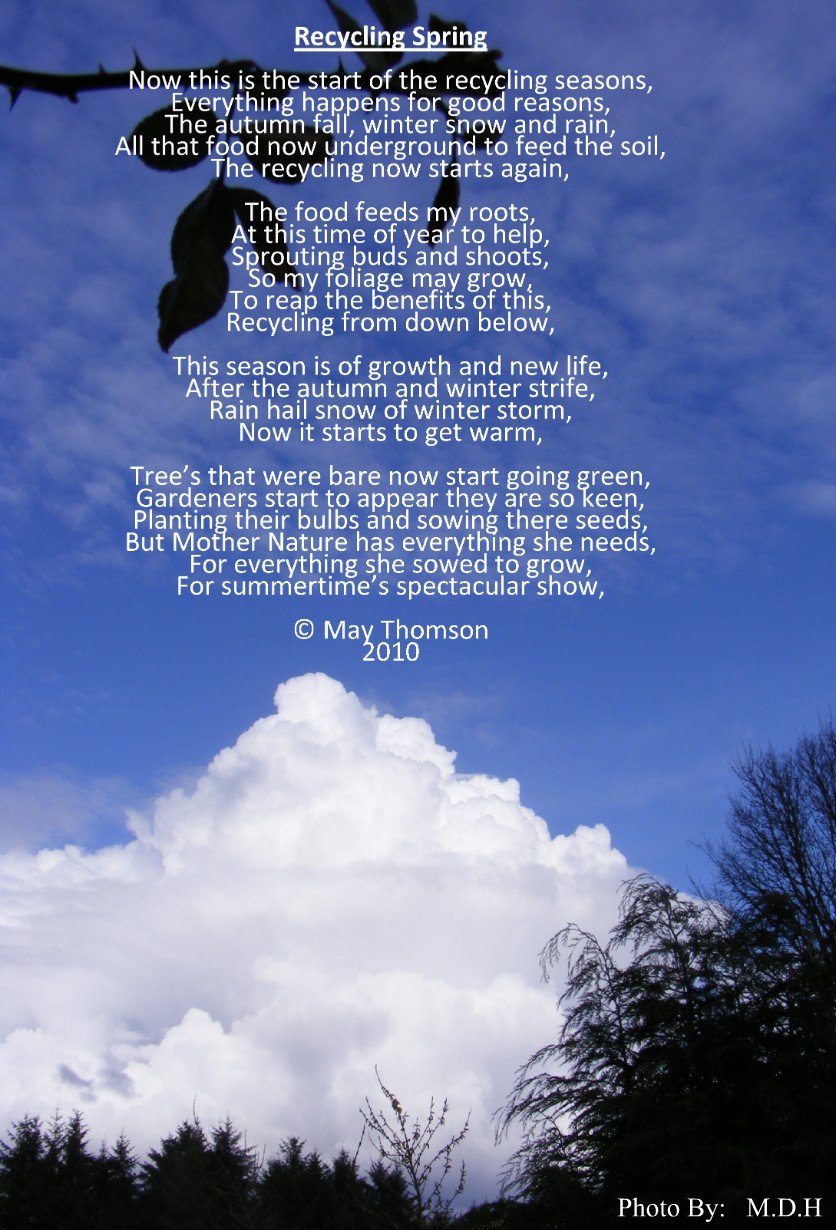 9/11 Ten Years On
Who does not remember what they were doing?
Ten years ago today,
Household ironing I was doing with my T.V on,
News Flash came through,
Change channel watch with horror and dismay,
How human beings can be so cruel,
They think their way is right,
So with terrorism they thought they would rule,
But we are also no fool,
As much horror I witnessed that day,
With every bad, good did outweigh,
I saw bravery, fear, caring, death,
Through all that, what shone through most LOVE?
The light of Love will always win through,
When we pass love on to each other,
Or when someone is blue,
A little love will make the smiles true,
So look at the future of the children,
Of those no longer here,
Remember love will always beat fear,
Letting in rays of bright sunlight,
Pray daily they never have to fight,
Fill their hearts with love and peace,
Hopefully one day all wars will cease,
Send love peace and harmony,
To everyone's loved ones memory.
© May Thomson
2011
HAPPY BIRTHDAY SURVIVORSBURG2006 .com
08/09/11

1st Year In
In 1 year I have been proven,
So so very wrong,
The last year my confidence and belief,
In me has grown very strong,
Now I stand tall with great pride,
Last year has definitely been a roller coaster ride,
To know my work helps others in need,
Each poem written with,
Heartfelt belief and love indeed,
To inspire others who have suffered,
Look at how I have recovered,
Poems of sadness written with great hope,
To let others know they too can cope,
A year full of Inspiration,
From other including me,
From Help for Herero's to 1Radio,
Maybe next a poetry show,
Big changes in my life I now see,
My proudest moment of the year,
Asked to write a poem for men/women,
Who made being a soldier their career?
To longest poem I have ever done,
Preformed by me just for the #1,
So thank you one and all,
Help me stand proud and tall,
Feeling good about my creation,
Helping others always my intention,
© May Thomson
2011
© All rights 2014 May Thomson Website Designed / Built by MAY THOMSON